5 Berlin Underground Tours with Berliner Unterwelten
On the streets of Berlin history is present everywhere. Modern and old buildings stand side by side everywhere in the city. Some houses bear memorial plaques or bullet holes. On the floor here and there are stumbling blocks commemorating the victims of National Socialism. Or the former course and restricted area of the Berlin Wall, of which some remains are still visible. Such a turbulent surface can only conceal equally turbulent foundations. The Association Berliner Unterwelten (Berlin Underworlds) makes these hidden places, located in the depths of the city, accessible to the public. Put on your warm clothes and comfortable shoes and we'll take you to explore the depths of the city!
Die Berliner Unterwelten e.V.: A cultural Association
Berliner Unterwelten are a cultural association. They have been working since 1997 to protect, preserve and document the underground of the German capital. Its members are researchers, people interested in history and key figures in the history of the Berlin Underworlds.
Berliner Unterwelten offer a permanent exhibition on "Germania", Hitler's pharaonic reconstruction project of Berlin, as well as other special exhibitions. In addition, daily guided tours on various topics are organized in German (but also in other languages: English, Spanish, French, Italian, Dutch and Danish) Some guided tours are seasonal. To make sure that the desired tour and language is offered during your visit, please check the website of the association: https://berliner-unterwelten.de.
The different guided tours
Tour 1 - Dark Worlds (Dunkle Welten)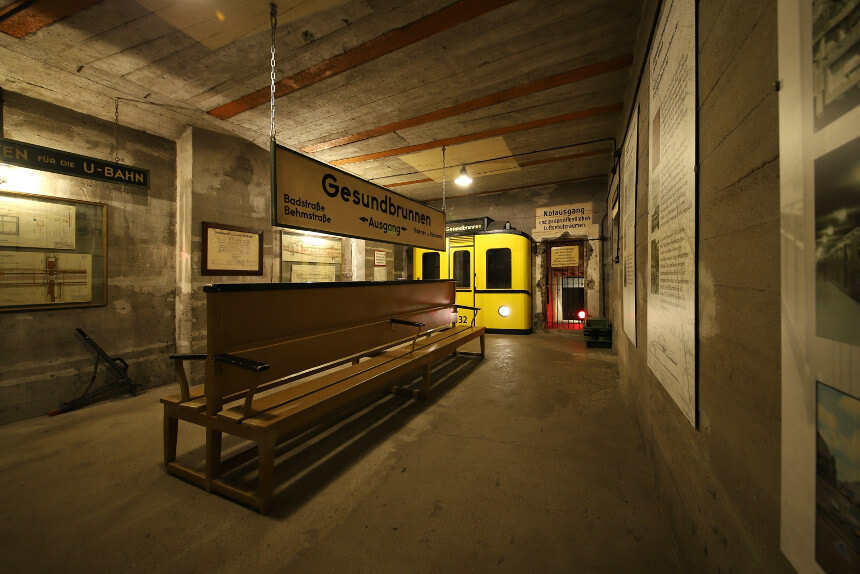 This tour is an introduction to the underground worlds of Berlin. It shows an air-raid shelter, a bunker and a collection of objects from the Second World War and before, which were found during excavations by members of the association. Go back in time and travel through the history of the cellars, the breweries, the postal network, the sewage system... until the fall of the Berlin Wall.
Tour 2 - From anti-aircraft towers to mountains of rubble (Vom Flakturm zum Trümmerberg)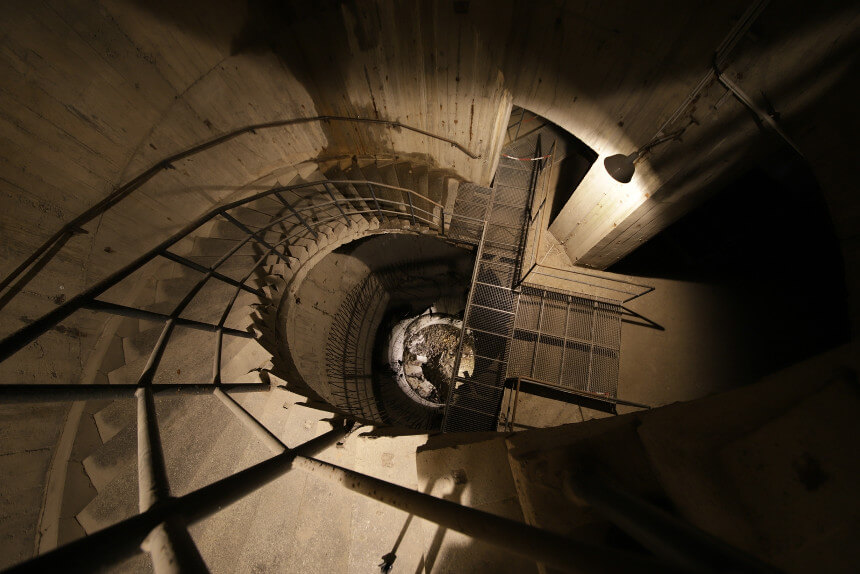 Three flak towers were built in Berlin after 1940. Massive constructions, which could accommodate up to 10,000 civilians. Only one of them, located in Humboldthain Park, partially survived at the end of the war. In the Berlin Underworlds you can visit the interior. You will also be able to see the ruins from the Second World War, which the members of the Association are still cleaning up.
This guided tour is only held from April to the end of October so as not to disturb the hibernation of the bats that have settled in the building. It is offered in English, German, Spanish, Italian and Dutch.
Tour 3 - Bunker, subway and cold war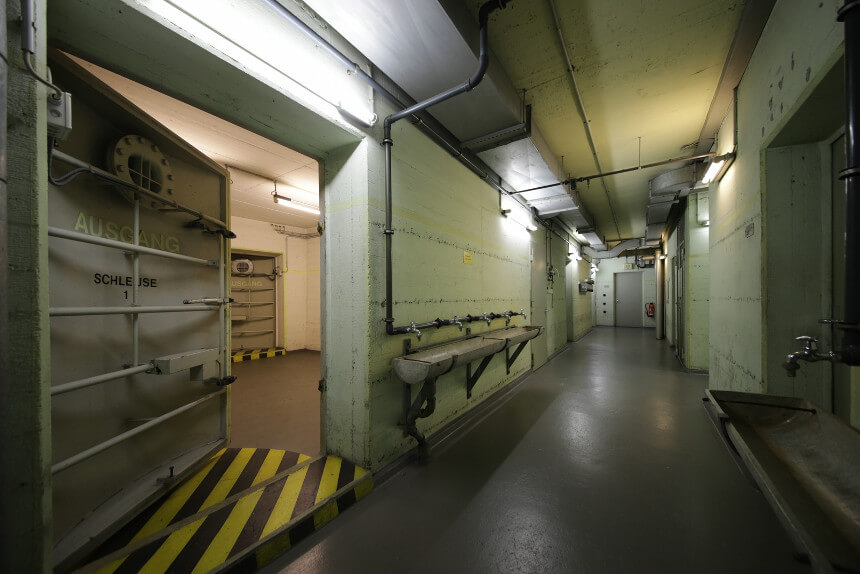 During the Cold War, West Germany feared a nuclear war with the Eastern Bloc. So it had bomb shelters built and old bunkers converted for this purpose. This tour focuses on explaining the disasters of a nuclear attack and how to protect the civilian population from this threat. Discover two authentic nuclear bunkers and their equipment that have stood the test of time. One of them, with a capacity of 3,000 people, is still operational.
Tour F - The time capsule (Geschichtsspeicher Fichtebunker) - nur auf Englisch und Deutsch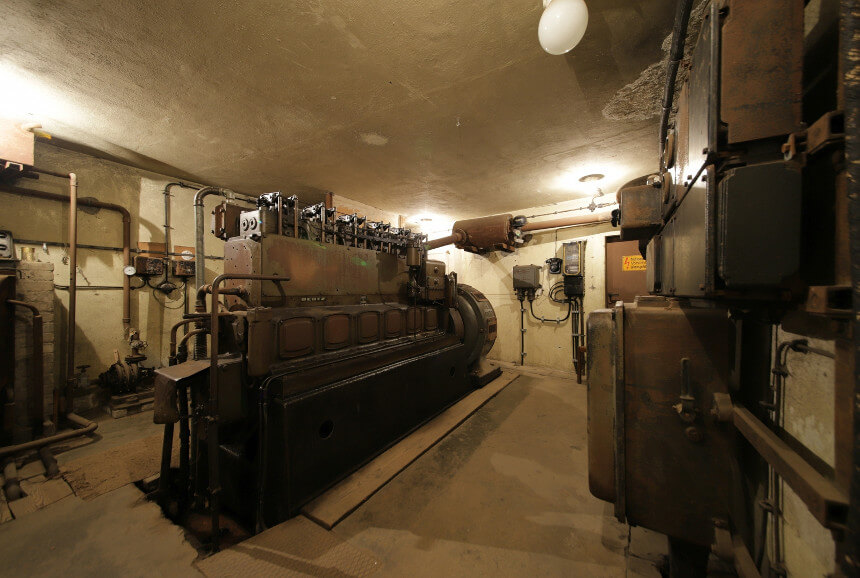 Gasometer, air-raid shelter, reception centre for war refugees, prison, old people's home, homeless shelter, food store: get to know the thousand and one lives of the "Fichtebunker". Berlin's largest bunker, built at the end of the 19th century in the district of Kreuzberg, preserves more than 130 years of history within its rounded walls.
Tour M - Underground into freedom (Unterirdisch in die Freiheit - Berliner Mauer)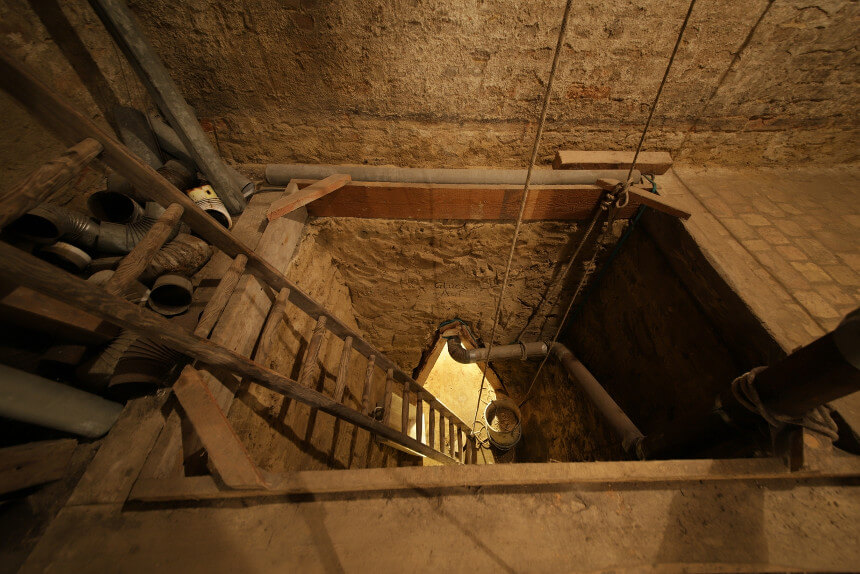 What can you do to escape a dictatorship when you live as a resident in captivity and are guarded by a border system and intensive surveillance? This tour looks back on the happy and sometimes unhappy attempts of East Germans who tried to escape to the West via the Berlin underground tunnels. Subway, pipes and dug tunnels: You will be impressed by the boldness of some refugees, by the tenacity of some people who risked their lives to face an authoritarian regime in order to be reunited with their families.
A number of other guided tours are only available in German.
Why is it workth it?
A guided tour into the Berlin underground is simply extraordinary! It is a unique opportunity to see places you wouldn't think of or that are not freely accessible. Whether you are a history fan or simply looking for thrills, you will be fascinated by the anecdotes that run through the various tours. More than just a list of explanations and figures on excerpts from history, you will relive the stories of those who tamed the underground corridors of Berlin. Immerse yourself in a vanished world in these moments. Use the back doors of the subway. Browse through realistic reconstructions or authentic rooms and places. Finally discover Berlin as you have never seen it before!
Address: Brunnenstraße 105, 13355 Berlin (Führungen 1, 2, 3 und M)
S-Bahn Gesundbrunnen
Price: 12 € (reduced 10 €)
Tickets are available on site 15 minutes before the tour starts.
Duration: approx. 90 minutes
Mélodie Julienne
Writer
As a web writer, I am passionate about cinema and literature. As soon as I arrived in Berlin, I was charmed. Between two trips, I like to walk its streets and let myself be carried away by its singularity, full of creativity. An infinite fascination that I love to share!
These articles may be of interest to you