10 Best Food Markets in Berlin (with secret tips!)
Zwischen den Wochenmärkten, Bio-, Farmers- und Bauernmärkten und den großen Markthallen gibt es in Berlin viele kleine Oasen, in denen man mit frische, regionale Produkte einkaufen kann. Sie sind mehr als nur Märkte, sie sind auch Orte, an denen man eine gute Zeit mit Freunden, Familie oder Kollegen verbringen kann.
Hier sind unsere Tipps und Empfehlungen zu den 10 schönsten Märkten, Wochenmärkten und Markthallen in Berlin.
1. Die berühmteste Markthalle: die Markthalle Neun (IX)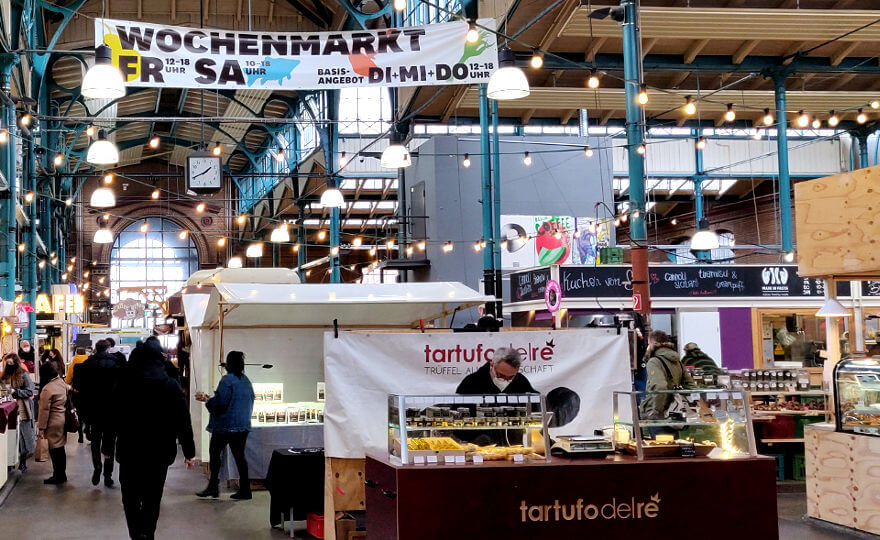 With its columns and high ceilings, the Markthalle Neun looks like an old trade hall. It has become a cult place for street food lovers in a few years. This magnificent covered market is open from Monday to Friday from 12 to 6 pm and on Saturdays from 10 to 6 pm (and on Thursday evenings from 5 to 10 pm for the Street Food Thursday with dishes to eat on the spot).
Between the traditional fruit and vegetable stands, including the famous Wilde Gärtnerei stand (very good vegetables but very expensive), the cheese and sausage stands, the bakeries, including one of the best in Berlin, Domberger, the wine shops, or the very good Rosa Canina ice cream stand, there are real culinary treasures.
Who hasn't tried a Big Stuff Smoked BBQ burger doesn't really know life! Real burgers, with pulled pork or pork belly (pork cooked for hours in the oven), homemade barbecue sauce and bun. A real treat.
Address: Eisenbahnstr. 42, 10997 Berlin
Subway: U1 Görlitzer Bahnhof
Opening hours: Monday-Friday: 12-6pm, Saturday: 10am-6pm (Thursday evening 17-22h)
2. The lively Turkish market at Maybachufer in Neukölln / Kreuzberg (#Kreuzkölln)
On Tuesdays and Fridays from 11am to 6:30pm, the weekly market at Maybachufer in Neukölln displays all kinds of products from the Bosphorus. From cheeses, vegetables, Turkish specialties (I recommend you try a gözleme and a baklava for dessert) or fabrics of all kinds, there is a great diversity. It's a real trip to stroll through the colorful alleys of this market on the banks of the Spree, especially in spring and summer.
Address: Maybachufer, 12047 Berlin
Subway: U8 Schönleinstraße
Opening hours: Tuesday and Friday: 11:30am - 6:30pm
3. The beautiful covered market in Moabit: Arminius Markthalle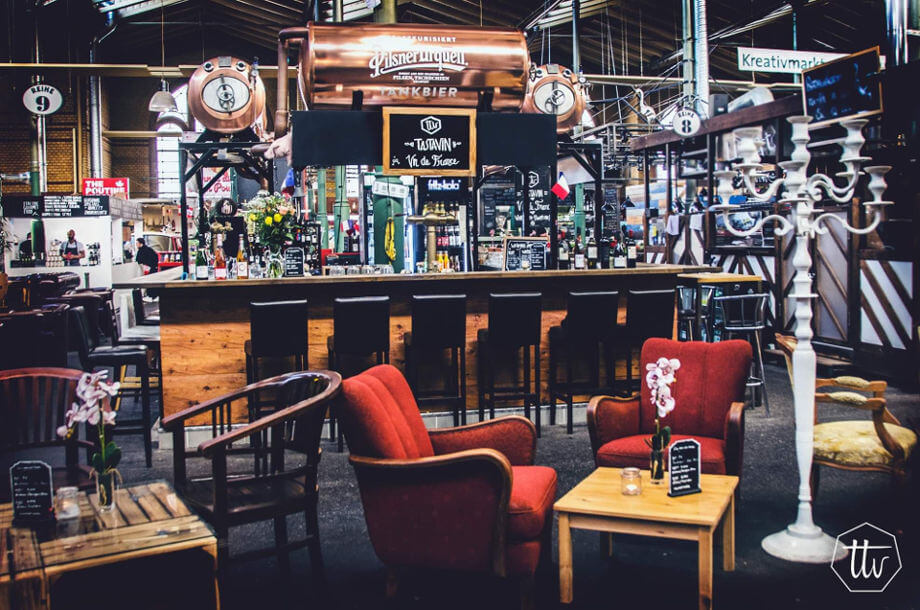 Located on the edge of the tumultuous Turmstr. the Arminius Markthalle was a huge surprise for me. Underneath its old shed look, the food market is full of culinary gems. Between the fish and fruit and vegetable stalls, there are many food stalls of local and international products.
It is also the perfect place to have a drink with friends after work. Especially at Tastavin, a French wine bar, where the good atmosphere reigns late, under the cheerful eyes of Max and FX, the adorable bosses always ready to advise on the best choice of bottle. (Tastavin will soon open a second location in Friedrichshain, Simon-Dach-Straße 22.)
Address: Arminiusstr. 2-4, 10551 Berlin
Subway: U9 Turmstr.
Opening hours: Monday-Friday 10am-8pm, Saturday 10am-6pm
4. Karl-August-Platz fruit and vegetable market (Charlottenburg - Wilmersdorf)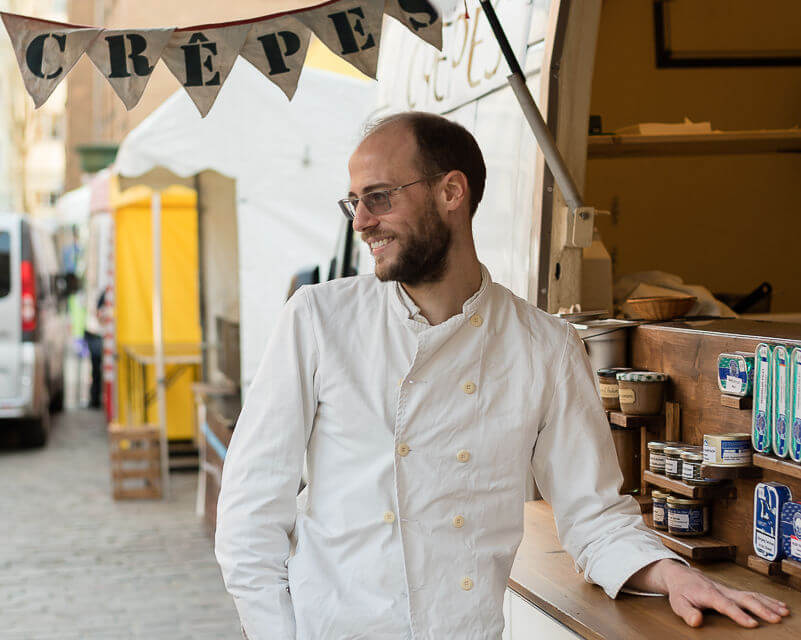 On Wednesdays and Saturdays from 8am to 1pm, the farmers and traders at the weekly market ("Wochenmarkt") on Karl-August-Platz offer quality local or regional products. This traditional West Berlin market, considered one of the most beautiful in Berlin, is probably the one with the best selection of fruits and vegetables and fresh produce.
If you are looking for the best pancakes (crepes) in Berlin, look no further! In a small booth that would almost go unnoticed is Nicolas, a true artisan who carefully selects each of his products, from flour to butter to chestnuts. His homemade salted butter caramel crepe (here, everything is homemade) is crispy and ultra fine - a real treat ;).
Address: Karl-August-Platz, 10625 Berlin
Subway: U7 Wilmersdorfer Straße
Opening hours: Wednesday: 8am-1pm, Saturday: 8am-2pm
5. The weekly market at Winterfeldtplatz in Schöneberg
Located in the beautiful Schöneberg district, just off Gleditschstraße, the Winterfeldtplatz market is the largest weekly market in Berlin. Between fruits and vegetables of very good quality, but also furniture and clothes, there is always something to taste or to discover.
Address: Winterfeldtplatz, 10781 Berlin
Subway: U1/U2 Nollendorfplatz
Opening hours: Wednesday: 8am-1pm, Saturday: 8am-4pm
6. The organic-eco-hipster farmers market at Boxhagener Platz (Friedrichshain)
Organic tofu, cold pressed juices, olive oils from small producers, seaweed and local gin - these are just a few examples of what you can find at the 100 or so stalls of the organic market at Boxhagener Platz, in addition to regional fruits and vegetables. We also go there (or especially) for the relaxed and friendly atmosphere of this food market in the heart of Friedrichshain. The little plus: you can go and sit on the lawn in the sun in the middle of the square after shopping.
My advice: take a squeezed orange juice for 1€ while you walk between the stalls!
The Boxhagener Platz is also home to a flea market every Sunday from 10am to 6pm. Don't get confused between Saturday and Sunday 😜 !
Address: Boxhagener Platz, 10245 Berlin
Subway: U5 Samariterstraße
Opening hours: Saturday: 9am - 3:30pm.
7. The lovely market at Arkonaplatz in Mitte / Prenzlauerberg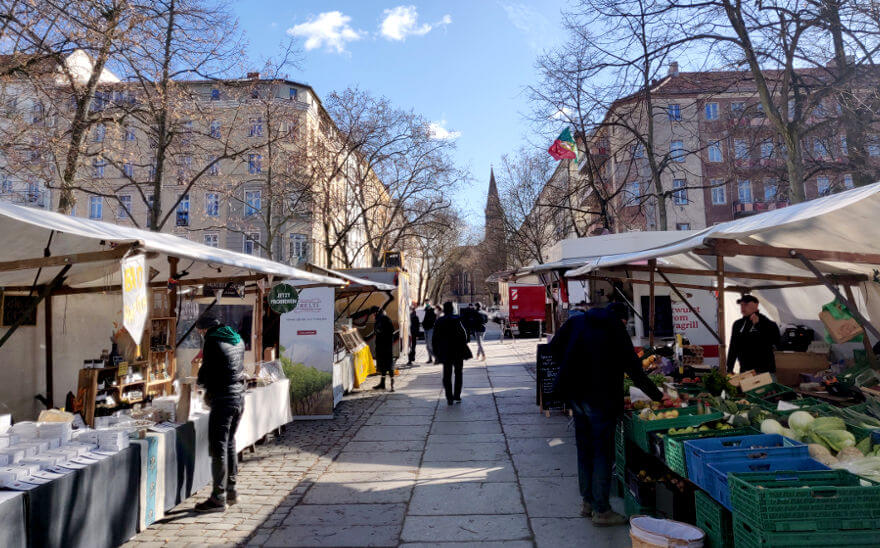 Every Friday from 12 to 7pm, about 20 stalls gather in the middle of the very pretty Arkonaplatz square. Fruits and vegetables, meat, sausages, cheese, bread, wine as well as some street food stalls with food to eat on the spot. On Sundays, the square hosts a flea market with furniture and vintage objects that is worth a visit.
Not to be missed: the delicious grilled fish of Steckerlfisch & Co. (trout, mackerel, char) to eat on the spot (with a glass of white wine from the stand next to it).
Address: Arkonaplatz 1, 10435 Berlin
Subway: U8 Bernauer Str. or Tram M10 Wolliner Str.
Opening hours: Friday: 12-7pm.
8. Marheineke Markthalle (covered market) in Kreuzberg (Markthalle XI)
Right in the middle of the lively Bergmannstraße district, the covered market of the Mahreineke Markthalle is a real gem. Between crepes and other French products, Italian antipasti and German specialties, everyone can find something to their liking.
My favorite is the Not Just Juggling stand with its wooden toys and juggling items.
Address: Marheinekeplatz 15, 10961 Berlin
Subway: U6 Gneisenaustraße
Opening hours: Monday-Friday: 8-8pm, Saturday: 8-6pm
9. The Tegel Covered Market
Since 1908, the former Tegel Covered Market, which was renovated in 2020-2021 and is scheduled to reopen in July 2021, offers all kinds of fruits and vegetables, meats, sausages, fish, spices, nuts, flowers...
Address: Gorkistraße 2-10, 13507 Berlin
Subway: U6 Alt-Tegel
Opening hours: Monday-Friday: 8am-7pm, Saturday: 8am-4pm
10. New market (opened in 2020): Markthalle Zwanzig (Tempelhof / Schöneberg)
Refrigerated shelves, wooden crates: you don't come here for the style but for the quality of the products (all from the wholesaler Havelland-Express): French oysters, Irish lamb or Scottish salmon. Located south of the former Tempelhof airport and the Schöneberg district, the Markthalle Zwanzig covered market opened its doors in the summer of 2020.
Address: Gottlieb-Dunkel-Straße 20-21, 12099 Berlin
Subway: Bus 277 Saalburgstr.
Opening hours: Friday: 2-8 pm, Saturday: 9-4 pm
Lysiane B.
Author
For the past four years, I have been roaming the streets of Berlin in search of discoveries, novelties and surprises, with sports, music and entertainment of all kinds as my favorite activities.
These articles may be of interest to you