The 12 Best Currywurst in Berlin
"Oh Willi, wat is mit dir? Trinkste noch n' Bier zur Currywurst!" sang crooner Herbert Grönemeyer. More than 70 million Currywurst are eaten in Berlin every year! This seemingly simple dish, which is nevertheless recognised by the biggest names (in 2009, the Hamburg snack bar Curry Queen was included in the Gault et Millau guide), gives rise to fierce controversy: is it from Berlin or Hamburg? Tomato sauce or Ketchup? With or without skin? Whole or cut diagonally?
Isn't Currywurst who wants to! Sausages must meet certain quality criteria in order to carry the "Currywurst" label: the sausage must be fine, unsalted and unsmoked, with a maximum of 5% added water.
Where can you find the best Currywurst in Berlin? Our ranking!
1. Mischke (Prenzlauer Berg) - the best currywurst in Berlin!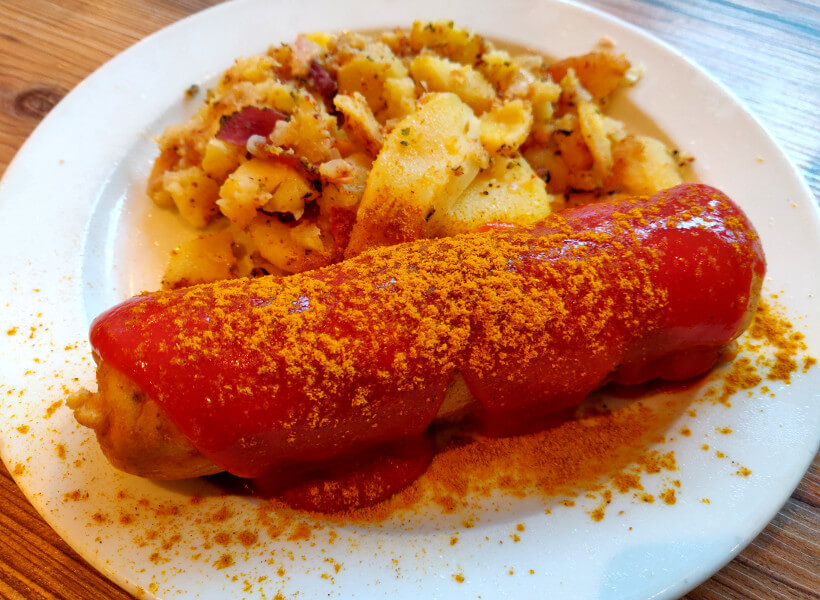 A large, whole, skinless sausage, nicely topped with tomato sauce and sprinkled with curry. There is exactly the right amount of sauce, neither too much nor too little, and the balance between the flavours of sausage, tomato and curry is perfect. At the top of our ranking, Mischke offers the best currywurst in Berlin!
Mischke has been a family butcher's shop since 1991. The quality of the sausage is far superior to that found in most curry wurst fast foods. Several side dishes are cooked on the spot, such as fried potatoes or potato gratin (but no French fries).
Address: Schönhauser Allee 144
2. Curry 36 (Kreuzberg) - The curry wurst of the stars?
Curry 36 is a real institution in Berlin. It all started in 1980 with the shop in Mehringdamm and only one manager. Then the franchise grew and became famous all over the world - it is said that Tom Hanks himself picked up his Currywurst there.
Neighbouring the Mustafa Kebab and its interminable wait, Curry 36 in Mehringdamm offers a fast and inexpensive service (2 Currywurst + French Fries for less than 5€). Here workers and partygoers meet. They eat standing, on the go, sharing a table with others, a beer in hand - a must in Berlin. The stand is open until 4am!
Address: Mehringdamm 36
3. Konnopke's Imbiss (Prenzlauer Berg) - The first East Berlin Currywurst!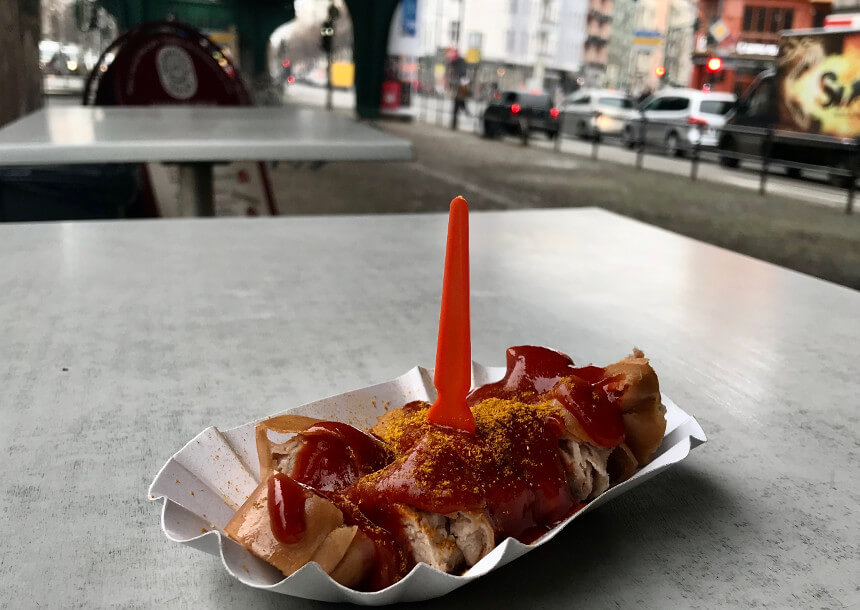 It was Konnopke's son, Günter, who discovered Currywurst in Wedding in 1960 and adapted the recipe for the sauce in the family imbiss - a well-kept secret ever since. Located under the tracks of the aerial underground station Eberswalder Straße, Konnopke's Imbiss is worth a visit!
Address: Schönhauser Allee 44a, Prenzlauer Berg
4. The vegan Currywurst of Curry at the Wall Berlin (Mitte)
We particularly appreciate the vegan and vegetarian curry wurst alternatives which are above what you would expect from a food-truck. For about 5€, it is possible to order a vegan currywurst and a portion of French fries.
Address: Zimmerstraße 97
5. Bier's Kudamm 195 (Charlottenburg) - Berlin's most popular Currywurst!
Since 1965, throughout the day and into the early hours of the morning, the famous and chic Ku'damm Currywurst is served to passers-by on a plate. Decadent, ridiculous some would say - it's the difference that interests us! Ambassadors, Bundeskanzler, opera singers will be your table neighbours as you enjoy your currywurst with a glass of champagne in your hand.
Address: Kurfürstendamm 195
6. Curry Baude (Wedding)
"Wenn Currywurst, dann Curry-Baude!" say the locals. Near the Gesundbrunnen center. Curry Baude offers curry sausages with and without casing in a homemade sauce. Since 1989, the snack bar has been run by the butcher Reina Lehmann, who makes sausages according to her own recipe. The sauce is also homemade and the preparation remains a family secret. We particularly appreciate the low prices (Currywurst + fries = 2€80).
Address: Badstraße 1 - 5
7. Curry & Chili - the spiciest currywurst in Berlin
Don't you find your curry spicy enough? Curry & Chili specializes in hot curry sauces and is considered the hottest snack bar in Berlin! Here you can choose not only between curry sausage with or without casing (or skin) but also the spiciness of the sauce (10 spiciness levels!).
Address: Osloer Str.
8. Krasselt's Imbiß (Steglitz)
Less known to tourists and therefore quieter - Krasselt's Imbiss is the "currywurst" meeting place for locals who flock to enjoy their (diagonally cut) sausages in a quiet atmosphere.
Address: Steglitzer Damm 22
9. Witty's Organic Food (Schöneberg)
Who said snack bar food was always unhealthy and fatty? Here we serve organic Currywurst: sauces, ingredients and fries are also organic. Something to feast on without regrets!
Address: Wittenbergplatz 1
10. Dom Curry of the Hilton Berlin (Mitte)
Another example of the true popularity of the dish - it is the diversity of the population that attracts it. To meet the ever-increasing demand, the Hilton Berlin is setting up a "Dom Curry" stand on the beautiful Gendarmenmarkt square: sausage is served in the appropriate style (porcelain plates). Dom Curry is a real currywurst bar and offers unusual varieties of sausage (ostrich meat, organic buffalo meat) and various sauces (herb curry, fish curry, ...).
Address: Gendarmenmarkt
11. Bratpfanne (Steglitz)
The snack bar Zur Bratpfanne is one of the oldest Currywurst stands in Berlin. Sausages have been sold here at the counter for more than 60 years. The ketchup and curry for the sausage are produced by the company itself, according to a recipe that is of course kept secret.
Address: Schloßstraße / Ecke Kieler Straße, 12163 Berlin
12. Ketch'up 35 (Neukölln)
Don't be fooled by the name: it's not just a ketchup bar! The sauce is homemade according to a secret recipe. The rolls for the sausages come from a bakery in Berlin and are very popular because of their home-made character - which is very much appreciated! In addition to the curry sausage, there are also meatloaf, meatballs and meat skewers.
Address: Gradestraße 35
Raphaëlle Radermecker
Author
With a curious personality and a passion for well-chosen words, writing and discovery are my two passions. Berlin intrigues and fascinates me, with its cultural and artistic richness, its modernity and its ability to constantly renew itself.
These articles may be of interest to you