Haus Schwarzenberg: Street Art Alley in Berlin Mitte
Haus Schwarzenberg is a real favorite hidden at the back of a small courtyard, in the heart of Berlin's central Mitte district. An unusual place where Street Art unfolds freely. This is a piece of alternative Berlin that survives the surrounding real estate pressure in a modern urban district. The site was preserved at the initiative of the Haus Schwarzenberg association, which occupies one of the buildings at the end of the alley.
This hybrid place includes artists' studios, a cinema, the Kino Central, two bars, as well as the The Museum of Otto Weidt's Workshop for the Blind (Museum Blindenwerkstatt Otto Weidt) where the story of Otto Weidt, a resistance fighter from the Second World War who employed blind and disabled Jews to protect them from the Nazi regime, is told. You can also see the permanent exhibition of the Anne Frank Centre.
Art, history and alternative cultures share the premises in a relaxed atmosphere. You have to go there, observe the murals and visit every nook and cranny.
A must-see place to see street art in Berlin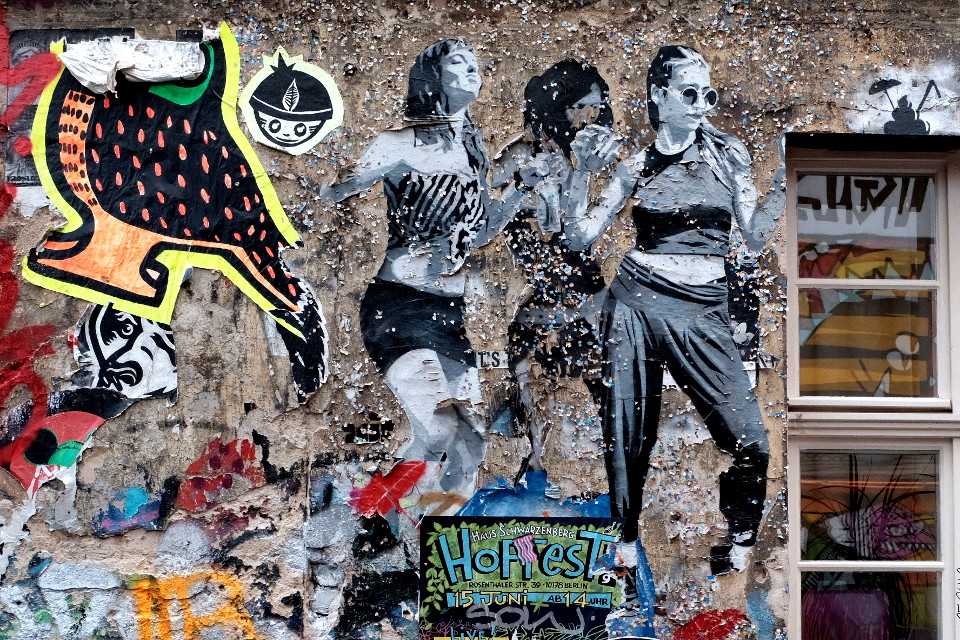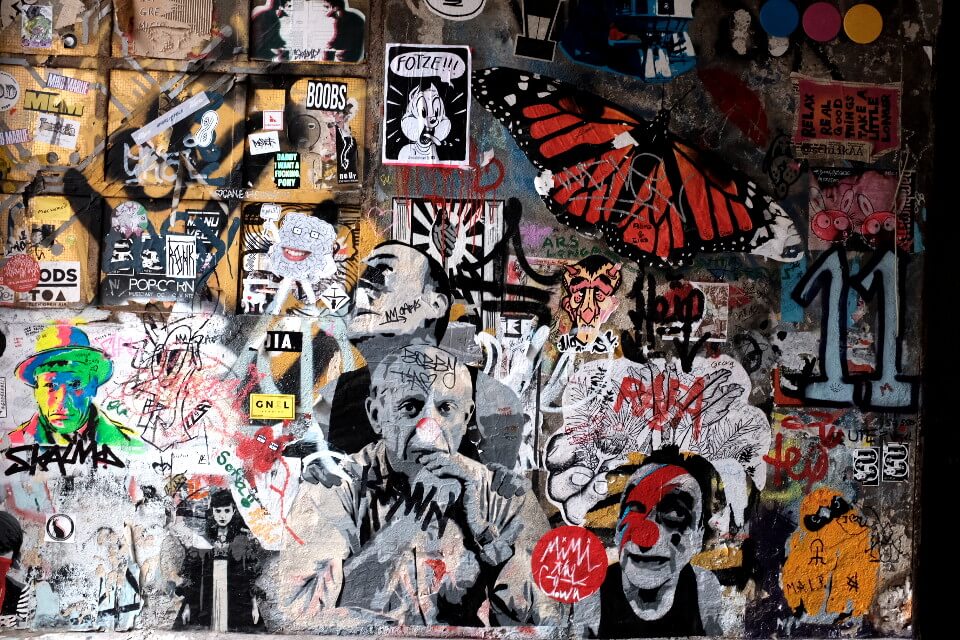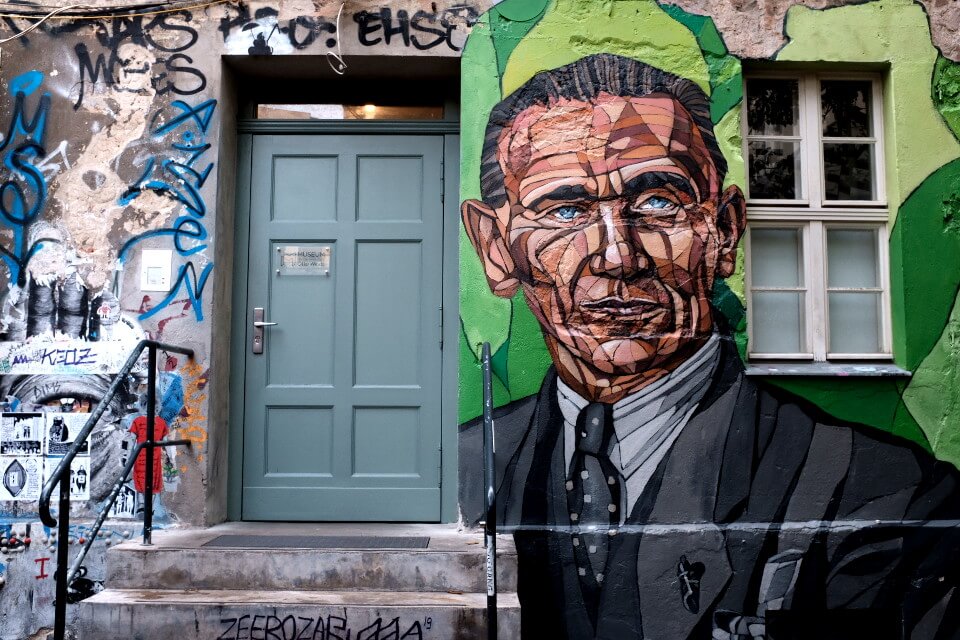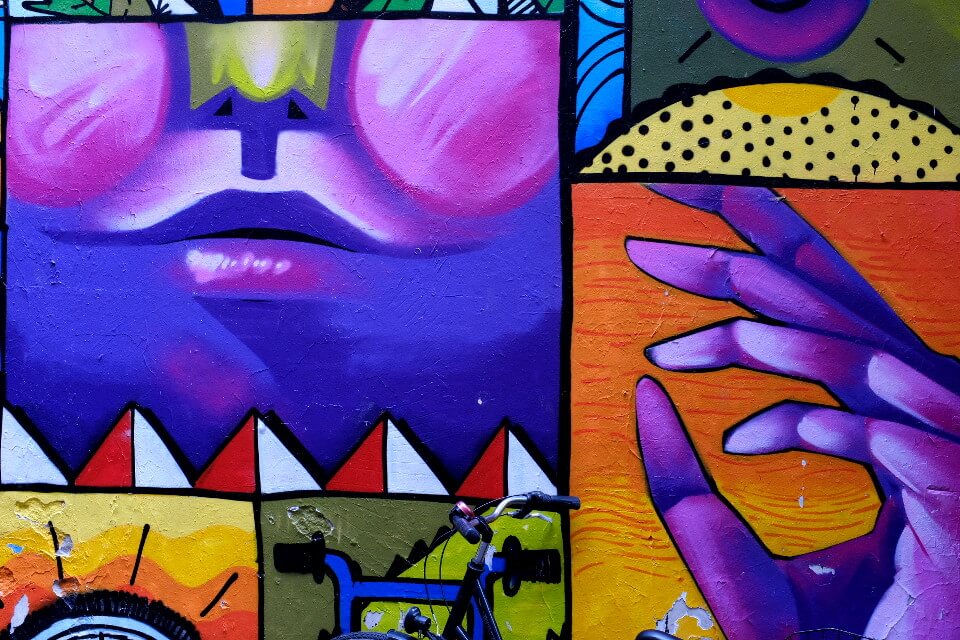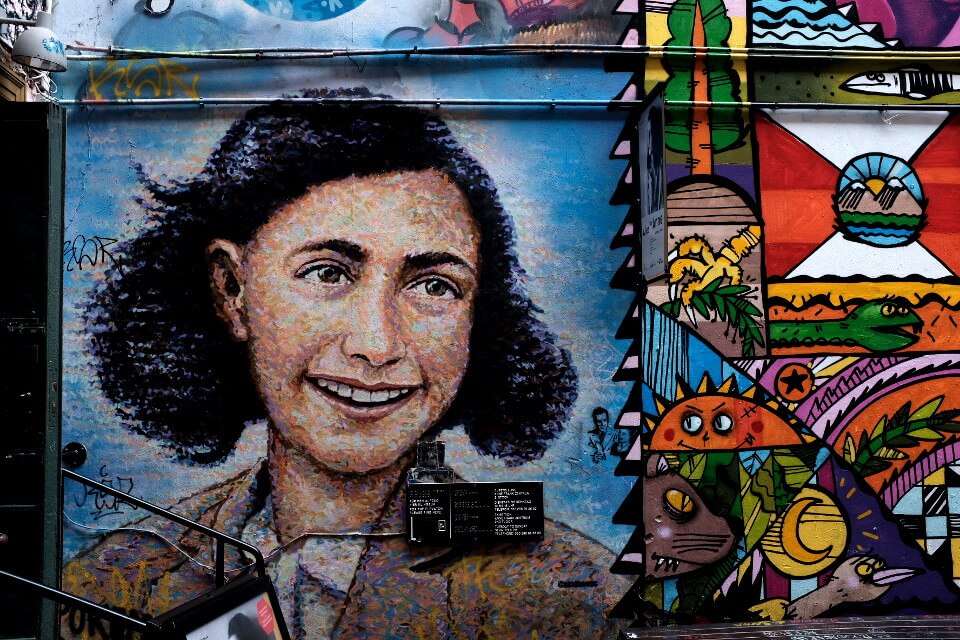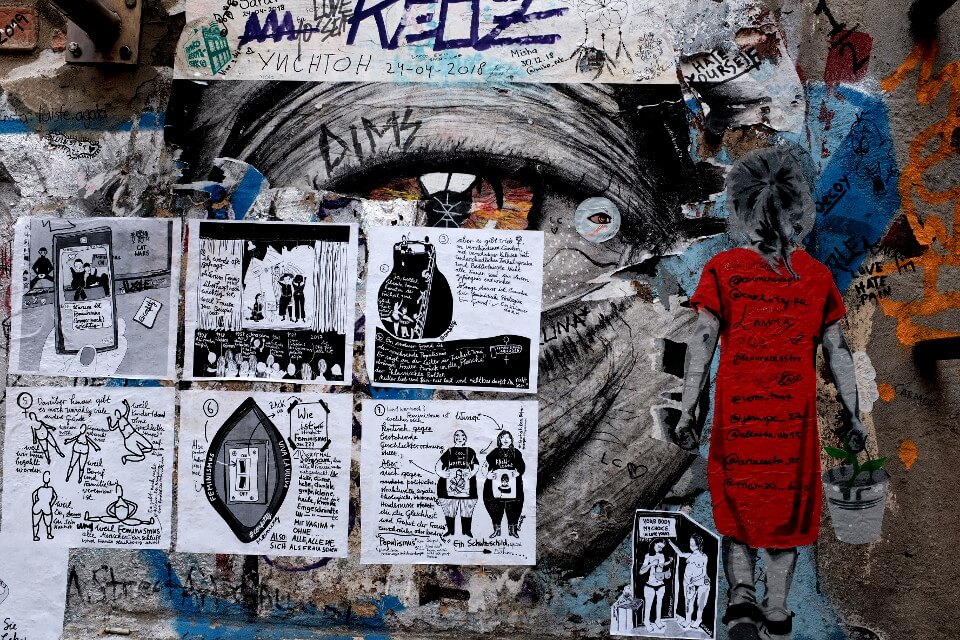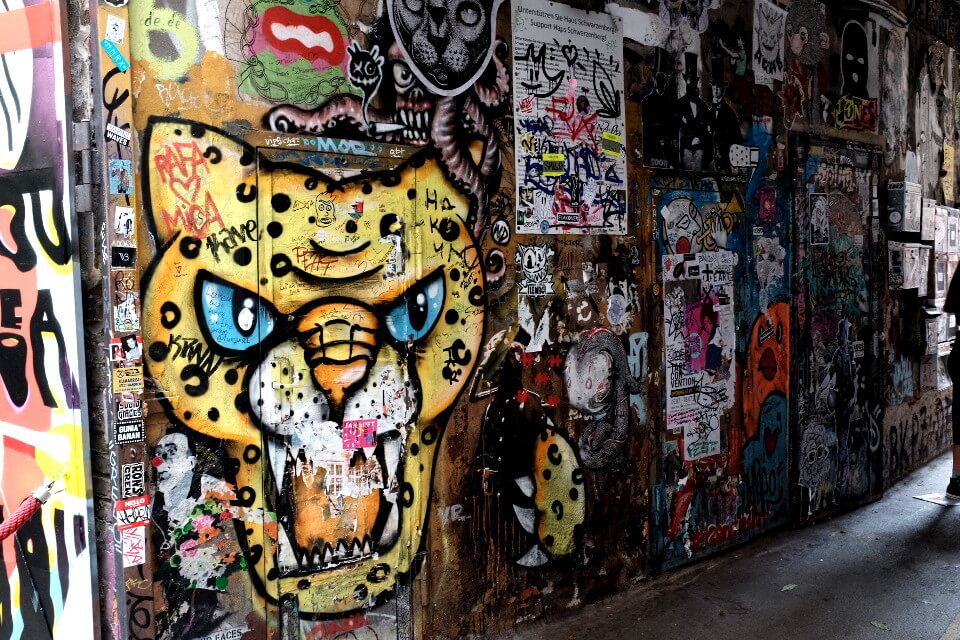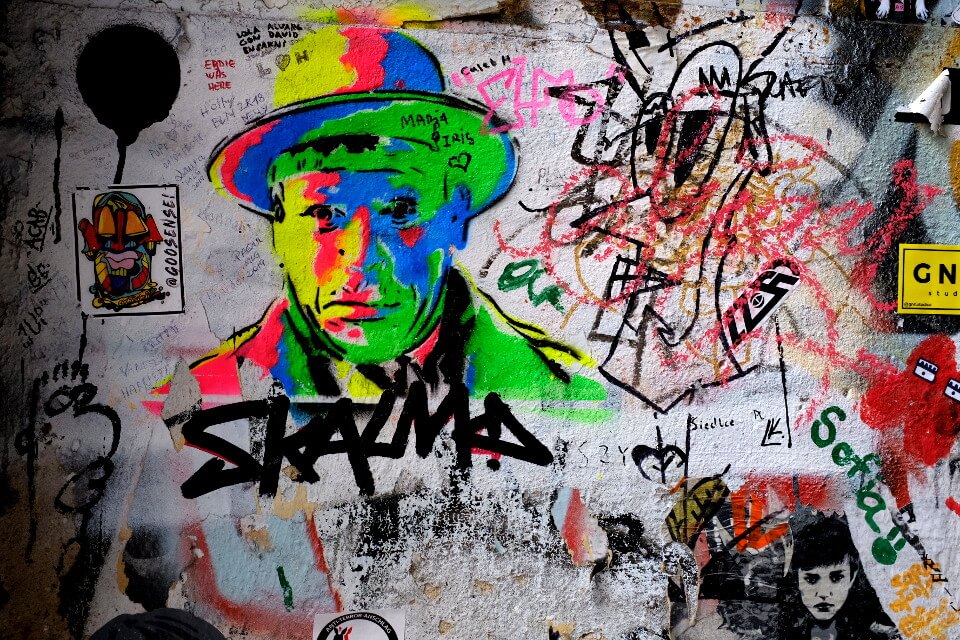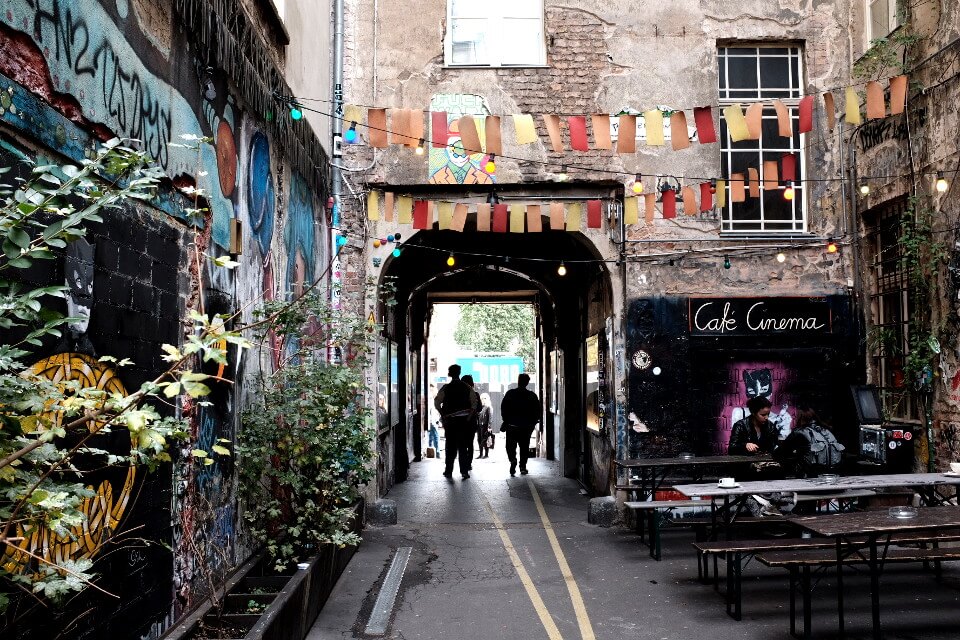 Located at the back of the building's courtyard are the Eschschloraque, an underground bar with concerts in the evening, the Kino Central, a cinema with open-air films in summer or the Monsterkabinett, a kind of old-fashioned, infernal merry-go-round or a ghost train without train with monsters and automatons. At the end of the courtyard, a staircase leads you to the various artists' and designers' studios. Every corner of the spaces is covered with collages, tags, paintings and graffiti.
The Haus Schwarzenberg is an unusual and unavoidable place for Street Art lovers, this small building courtyard is home to many treasures! To visit during a walk in the Berlin Mitte district during the day, or to have a drink in the evening.
Map, Address and how to get to the Haus Schwarzenberg
Map: Haus Schwarzenberg in Berlin Mitte
The Haus Schwarzenberg is located in the Mitte district next to the Hackesche Höfe, a stone's throw from the S-Bahn Hackescher Markt station. The address is: Rosenthaler Straße 39, 10178 Berlin. You must enter the courtyard of the building located at number 39, just next to the Café Cinéma.
Price and opening hours:
Most of the works are located in the courtyard of the Haus Schwarzenberg building, which is open 24 hours a day. Admission is free.
To go there by metro (U-Bahn, S-Bahn) or Tram
S-Bahn. S5, S7 or S75. Station: Hackescher Markt.
U-Bahn. U8. Station: Weinmeisterstraße
Tram. The nearest tram stop is Weinmeisterstr. on line M1.
Raphaëlle Djuna Daouphars
Author
Art and Culture are my leitmotiv. As a cultural project manager, I have been passionate about photography and literature for several years. Berlin is for me a source of inspiration that never ceases to surprise me!
These articles may be of interest to you