The 5 Best Ice Cream Shops in Berlin Friedrichshain 🍦
In the middle of summer, under the heat of the Berlin sun, there is no shortage of excuses to enjoy ice cream and sorbets of all kinds. In fact, any excuse is good for an ice cream break, no matter what time of day it is. Where can you eat the best ice cream in Berlin Friedrichshain?
Here is our selection of the 5 best ice cream shops in Friedrichshain.
1. Caramello: the best organic ice cream in Friedrichshain
The first ice cream shop of our selection is located near the Boxhagener square, the dynamic epicenter of the Friedrichshain district. It is Caramello, recognizable by its pistachio green canopy. Using organic milk from the Brandenburg region with a particularly high cream content, their various ice creams achieve a creamy texture as well as an intense taste. The various homemade flavors of the wide selection of ice creams and sorbets are to be enjoyed without moderation.
🍦 Personally, we love the chai, coffee and the flavors made with fair trade cocoa from Madagascar.
📍 Bio-Eiscafé Caramello - Wühlischstraße 31, 10245, Berlin
2. Natur Eis: Beautiful ice cream store with homemade, regional and very tasty ice cream!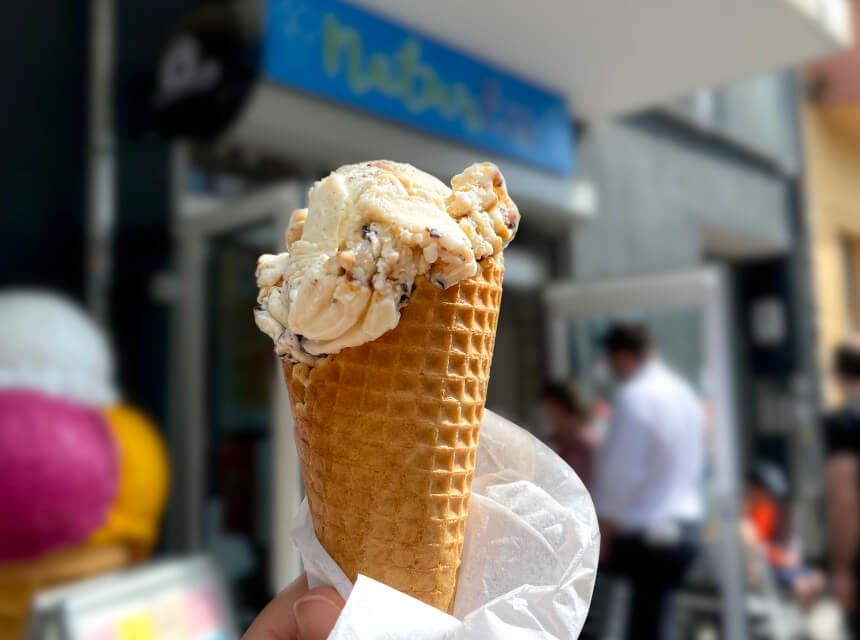 This small ice cream shop located in the Gärtnestraße, a little away from the bustle of the very dynamic district of Friedrichshain, offers a wide range of flavors, each more fruity and delicious than the last. Committed to offering homemade ice creams based on natural regional products selected by them, the Natur Eis team makes its original and tasty creations knowing exactly where their products come from. In addition to ice creams with original flavors presented in colorful cones, a selection of milkshakes and other sweets awaits you.
🍦 We personally love the fig and black sesame cheesecake flavors, but the kinds often change according to the desires of the friendly managers.
📍 Natur Eis - Gärtnerstraße 2, 10245, Berlin
3. Spoonful, the Berlin ice cream parlour (formerly Eismanufaktur) with vegan ice cream
In the same street as the previous ice cream shop, it is to a more contemporary style that we pay our attention. Already with 6 stores in Berlin, the modern ice cream factory Spoonful is very successful in offering unique and original flavors of ice cream. From cow's milk to vegan coconut milk and oatmeal, there is something for every taste and preference. On their website or in the store, it is also possible to buy their different ice cream creations made in Berlin in 470 ml pots.
🍦 We recommend the raspberry, rosemary flavors as well as the creamy ice cream with rice pudding, caramel and caramelized nut with fleur de sel.
📍 Spoonful - Gärtnerstraße 33A, 10245 Berlin
4. Cuore di vetro Gelato Artisane: the best Italian ice cream in Friedrichshain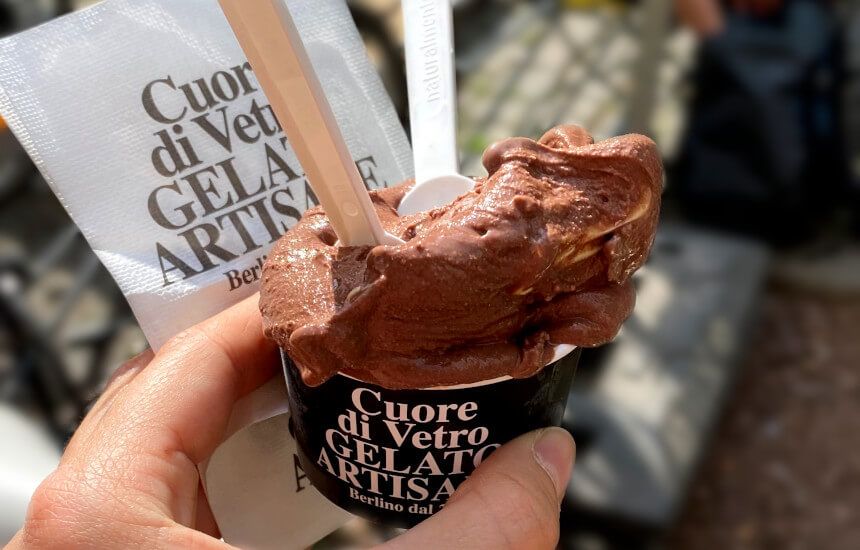 The ice cream shop Cuore di vetro Gelato Artisanal, located in the center of the bustling Simon-Dach-Straße, offers the Italian ice cream par excellence. Generous and creamy to perfection, it will please all ice cream lovers. Their selection of ice creams made on the spot with organic milk and fresh fruits of the season offers every day a choice of more than 15 kinds of ice creams to enjoy according to your desires and your moods. Working according to the principle of "espresso", as they say, their ice cream makers proceed to a continuous production, throughout the day, to offer a varied assortment from morning to night.
🍦 Whether in a scoop or in a cup, the caramel ice cream and the pistachio ice cream are a must!
📍 Cuore di Vetro - Simon-Dach-Straße 40, 10245 Berlin
5. Delabuu ice cream shop: the best rolled ice cream in Berlin Friedrichshain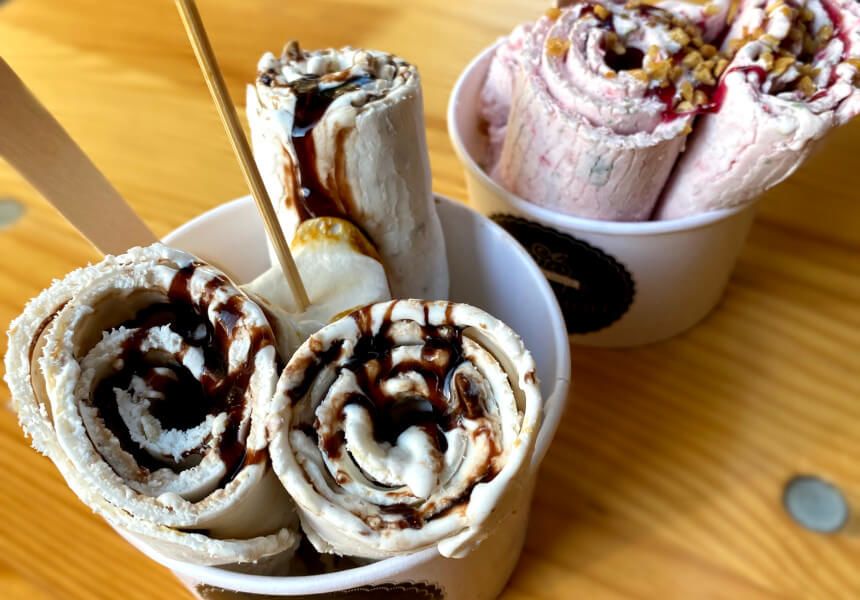 You probably haven't missed the trend of ice cream rolled on a refrigerated griddle. They have been a real hit, especially on the networks a few years ago. This trend from Asia has made its way to the lively streets of Berlin at the Boxhagener Square, also called "Boxi" by the locals, to a place called Delabuu. This specialty consists of thin strips of ice cream rolled on themselves. Made with a vegetable milk base mixed with spatulas and various ingredients such as fresh fruit, cookies and other sweets according to your preferences, these strips are then personalized with various sauces and toppings of your choice. The wide selection of ingredients allows you to create your own combination that will please you, allowing for a multitude of rather fruity or gourmet possibilities.
📍 Delabuu Ice Cream - Krossener Str. 15, 10245 Berlin
Céleste Roux
Writer
As a philosophy student, passionate about art and literature, I fell in love with the city of Berlin, which has become my home and daily inspiration. I love to walk its streets and let myself be surprised by what this constantly changing city has to offer, always on the lookout for new places.
These articles may be of interest to you