Berggruen Museum in Berlin: Picasso, Matisse, Giacometti and Klee
Opposite Charlottenburg Palace, the Berggruen Museum (formerly the National Gallery) owes its existence to the passion of a private art collector: Heinz Berggruen. When Heinz Berggruen died in 2007, his family agreed to continue to make the collections available at the Nationalgalerie.
The Berggruen Museum is located in the Charlottenburg district, far away from the Museum Island and the hustle and bustle of the tourist trade. The museum offers visitors a rich collection of works by Picasso (more than 120 pieces), Matisse, Giacometti and Paul Klee, which are displayed in ideal conditions: the rooms are high, quiet, well-lit and not very crowded. The works are neatly displayed and are just waiting to be admired during this colourful walk.
The Pablo Picasso Collection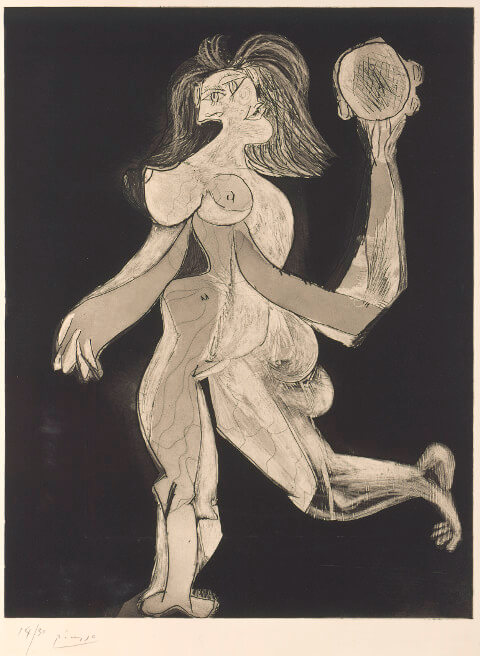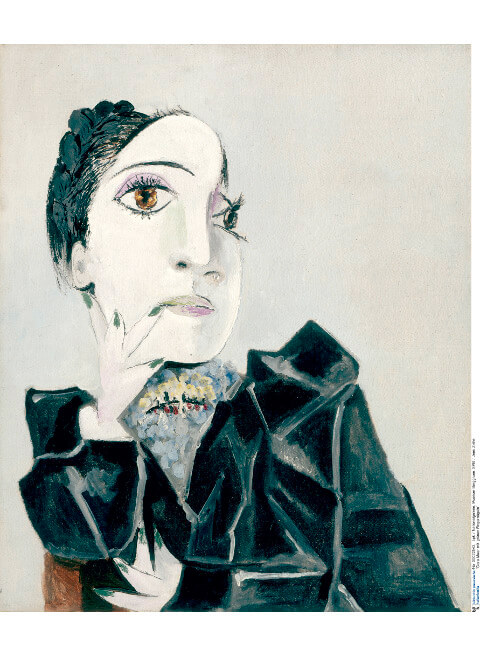 Pablo Picasso, Woman with Tambourine, 1939, aquatint and scraping technique on paper, 66,5 x 51,4 cm (left), Pablo Picasso, Dora Maar with green fingernails, 1936, oil on canvas, 65 x 54 cm (right), Staatliche Museen zu Berlin, Nationalgalerie, Museum Berggruen, Photos: Jens Ziehe / © Succession Picasso / VG Bild-Kunst, Bonn 2019
Presenting more than 120 works by the artist, the Berggruen Museum offers an exceptional panel of the artistic developments of Pablo Picasso (1881 - 1973).
It is possible to compare the artist's beginnings with a 1987 study (Picasso was only 16 years old at the time) with his blue, pink and then cubist periods. Some of his most appreciated works are included, such as the "Sitting Harlequin" of 1905, the portraits of Dora Maar, Picasso's lover and muse - we particularly liked the one depicting her with varnish around (1936) because, although it is only made with "cold" colours, it radiates a real warmth. Picasso, when it comes to painting, dissects, disassembles and reassembles the face of his disfigured lover seen from the front and the side simultaneously. The result is a series of magnetic and intriguing portraits.
From pencil on paper to bronze sculpture, visitors are enchanted to discover the extent of Picasso's creativity, the prolific genius of more than 50,000 works.
Did you know?
Pablo Picasso, whose real name was Pablo Diego José Francisco de Paula Juan Nepomuceno María de los Remedios Cipriano de la Santísima Trinidad Martyr Patricio Clito Ruíz y Picasso, painted his very first paintings at the age of eight, (example: The Little Yellow Picador, 1889). When asked about the exceptional and precocious character of his talent, he would have answered: "When I was a child, I used to draw like Raphael, but it took me a lifetime to learn to draw like a child".
The Paul Klee Collection
Another pearl of the museum is the collection of the artist Paul Klee (1879 - 1940). Comprising at least 70 of his works, among them "Galgenhumor" and "Den Fischen läuten" (both dating from 1919), the series quickly gives a glimpse of Paul Klee's hard work and obsession in his absolute quest for meaning. Colourful and energetic, all of them in a highly sought-after approach, it is hard to believe, so diverse are they, that all his works emanate from one and the same person.
We appreciate the quotations decorating the walls. They give a context to his works - sometimes very mysterious and abstract. Known for rejecting the figurative, he decrees that an artist's vocation is to give his vision of the world and not to set about reproducing its image ("Kunst gibt nicht das Sichtbare wieder, sondern macht sichtbar.").
Did you know?
Paul Klee, a confirmed artist in various fields (painting, music, ...) he has not always been successful - far from it! Under the Nazi regime, his works were presented at an exhibition of "degenerate art" ("Entartete Kunst") free of charge. This exhibition was intended to mock and stigmatize modern artists who deviated from the "pure racial art" imposed by propaganda. Paul Klee is portrayed as a pure mental patient. Ironically, the "degenerate" artists of the time are now the most internationally recognized artists, such as: Chagall, Mondrian or Picasso.
The Henri Matisse and Alberto Giacometti Collection
The Berggruen Museum mainly displays pieces (paintings and sculptures) dating from the late period of the two artists Matisse and Giacometti. As these are the best known works, the visitor will not be disappointed by Giacometti's "Standing Woman" (1960).
To reach the room dedicated to Giacometti's works, the viewer must cross a glass corridor that links the two buildings. Between the interplay of light and shadow, the viewer is drawn into a world of elongated and disturbing silhouettes. The exhibition even includes a short film showing the artist at work.
Did you know?
Henri Matisse, a misunderstood artist? In 1961, at the New York Museum of Art, the painting The Boat by French artist Henri Matisse was exhibited upside down for nearly 47 days. As curious as it may seem, no one was aware of it.
Alberto Giacometti, pushed and encouraged by his family, was very close to his brother Diego Giacometti. The first sculpture created by Alberto was a bust of his brother from whom he was inseparable. From Switzerland, Diego followed his brother to Paris while he was attending Bourdelle's classes - Diego attended and posed as a model for his brother for more than 50 years. It is a love and complicity that no friend or woman has ever been able to question.
Informations:
Address: Schloßstraße 1, 14059 Berlin
Metro: S 2/25/41/42/46 Westend, then Bus 45 Schloss Charlottenburg
Opening hours: Tuesday to Sunday from 10am to 6pm.
Price : 12 euros
Reduced prices: 6 euros.
Raphaëlle Radermecker
Author
With a curious personality and a passion for well-chosen words, writing and discovery are my two passions. Berlin intrigues and fascinates me, with its cultural and artistic richness, its modernity and its ability to constantly renew itself.
These articles may be of interest to you