13 Restaurants where you can eat the Best Pizza in Berlin
Starting the subject of the best pizzeria in Berlin is a bit like starting a debate on religion. Everyone has their own beliefs, and you're not immune to a little proselytism and bad faith. Berlin has an impressive number of great pizzerias and therefore pizzas of all kinds, large, vegetarian, Neapolitan, vegan, Roman, sophisticated, fast food, gluten-free, for all budgets and prices. Here is, in very different styles, a small list and ranking (non-exhaustive, one will never live long enough to be exhaustive on Berlin's pizzerias) of Berlin's most popular pizzerias.
1. Gazzo - The best pizza in Neukölln (made with fermented dough!)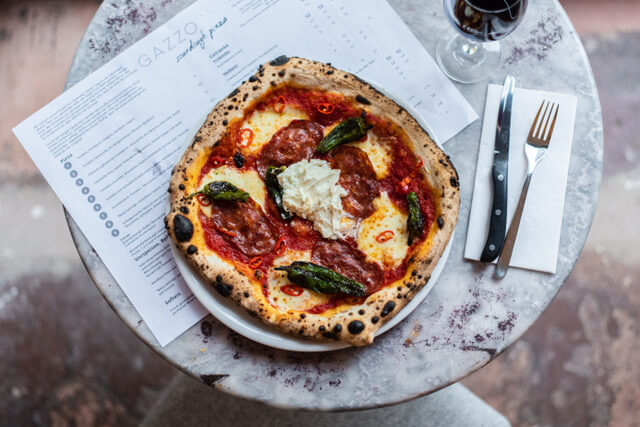 When you think the pizza market is saturated, places like Gazzo pop up and blow your mind. A sourdough-fermented pizza dough that gives it a unique, slightly acidic taste. We're here in the heart of alternative Berlin. Pizza is an art that doesn't only belong to Italy.
Pizza margherita: 8,50€
My favorite pizza: Buffalo burrata (Brandenburg), spicy salami, pimientos de Padron, fresh chili, tomato, mozzarella (12,50€)
Hobrechtstraße 57, 12047 Berlin Neukölln
Monday-Sunday: 12h-22h
2. Sotto - The best (vegetarian) Pizza in Wedding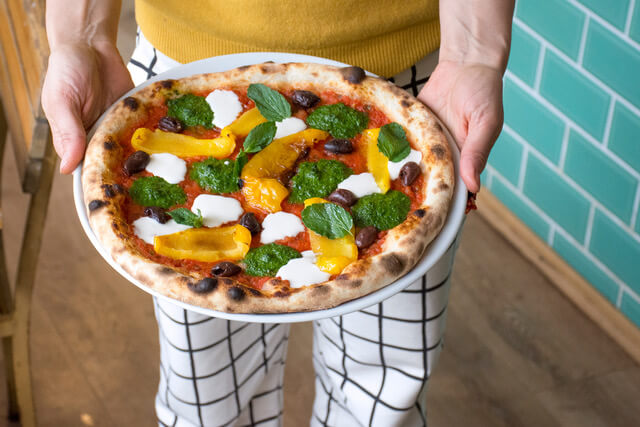 Who knows about this pizza place besides the people living in that street? I don't know, I do live in that street. Anyway, the restaurant opened in October 2018, and it's always full. Are there so many people living in that street? Impossible to have a table for more than 2 if you haven't made a reservation. Sotto serves the cheapest pizzas in town, with vegetarian and vegan options. And even if you're not vegan, you still get amazing pizzas that are worth the trip. Run by a Finno-Italian couple. And, on top of that, Sotto offers very good wines at entry prices of 12 or 13€. In short, my favorite canteen. I usually go there twice a month, so we might bump into each other there.
Pizza margherita: 7,50€
My favorite pizza: Parmigiana - Eggplant, Mozarella, Parmesan - 8,50€
Optional: Gluten-free dough (1€)
Neue Hochstraße 25, 13347 Berlin Wedding
Tuesday-Sunday: 12h-22h (opens at 13h30 on weekends)
3. Futura Pizza - The best pizza in Friedrichshain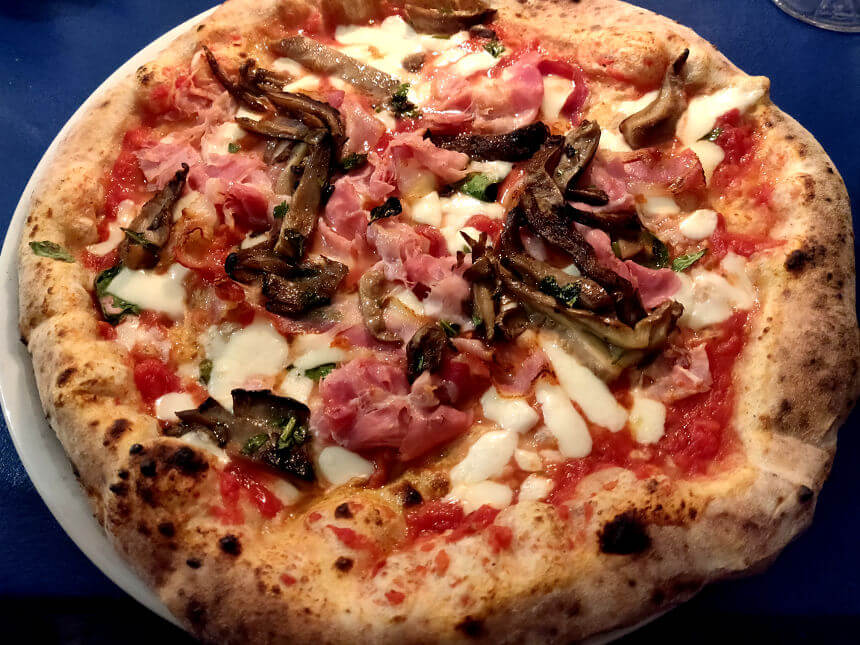 The newest and most promising pizzeria. Opened by Standard Pizza's former pizzaoilo, Futura Pizza is a bistro-style restaurant (you can even eat over the counter) that serves one of the best pizzas in Berlin. The dough is incredible: well puffed, soft and light at the same time. The ingredients are fabulous and the menu is inventive, including a 5-cheese bianca pizza or a pizza with three tomatoes (yellow, green and red). Futura has managed to keep the positive aspects of Standard while adding a little more warmth (maybe the Italian charm).
Pizza margherita: 8,80€
My favorite pizza: Capricciosa (Fior di latte, smoked white ham, smoked pancetta and oyster mushrooms) - 11,80€
Bänschstraße 91, 10247 Berlin Friedrichshain
Tuesday-Sunday: 18h-23h (opens at 17h on weekends)
4. Mami Camilla - Typical pizza from Naples in Prenzlauer Berg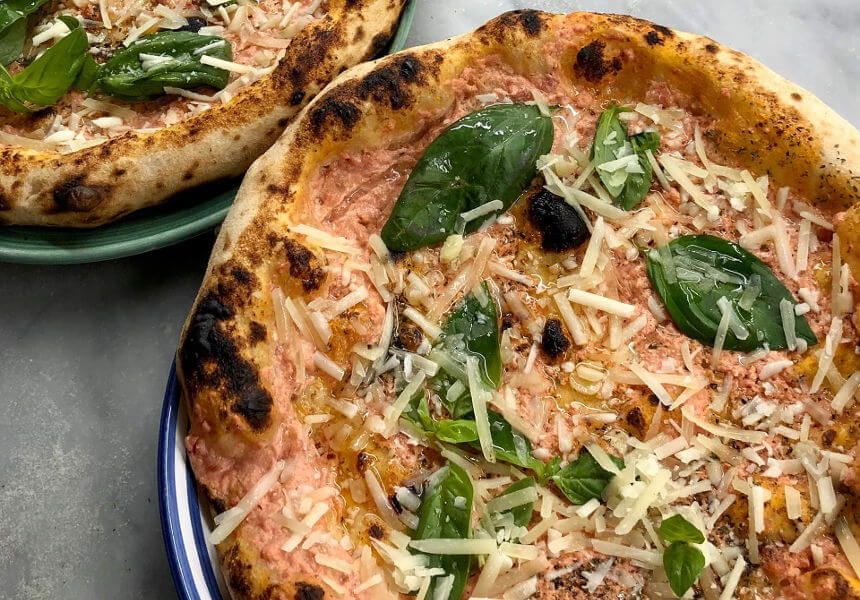 In a quiet little street of the Bötzowviertel in Prenzlauer Berg, these are probably the most surprising pizzas I've been able to discover in Berlin. Very fresh, high quality products, original combinations and probably the most creative pizza. So the prices are a bit higher than in other italian restaurants.

Pizza margherita: 12€
My favorite pizza: Margherita with capers, olives, garlic and pecorino - 12€
Hufelandstraße 36, 10407 Berlin Prenzlauer Berg
Monday-Sunday: 17h-23h
5. Standard Serious Pizza - Die beste Pizza in Berlin Mitte - Prenzlauer Berg
Standard Serious Pizza - the most serious pizza in Berlin. And while pizza has always been a popular dish, Standard treats pizza with respect and deference. Some pizzas are à la carte, with very thoughtful product combinations, and we warn you that there will be no twists to this association, no prosciutto, anchovies or garlic added just like that, according to your taste. It's a take-it-or-leave-it pizza. I agree that the pizza is excellent, the dough is both soft and crispy, the tomato sauce tastes very good, but the service or the atmosphere (too sophisticated?) cooled me down a bit. Be careful not to make a mistake when ordering between a bianca pizza (without tomato sauce) and a pizza with tomato sauce (the waiter will not admit that he was the one who could have made a mistake when taking your order when you had clearly specified a calzone with tomato sauce).
Pizza margherita: 9,50 €
My favorite pizza: La Calzone Traditionale (not bianca!) - Ricotta Fior di latte Affumicatois, Cicoli, salame, smoked fio di latte, cheese, tomato sauce, salame - 14,50€
Templiner Str. 7, 10119 Berlin Mitte - Prenzlauer Berg
Tuesday-Sunday: 18h-00h (opens at 13h on weekends)
6. Zola – The best pizza in Kreuzberg
Probably the most popular pizza in the neighborhood, along the Landwehrkanal in Kreuzberg. The place is a mix between Berlin and Naples. A room always very full, raw materials, wood, the formula is known but it always works, the whole sprinkled by an omnipresent music. In the plate, it's the evocation of Naples in every bite. Here, people sometimes line up for hours in the courtyard (unless they've booked in advance), waiting for a place on the long shared tables. Or you wait in the basement, sitting with a beer on the flour sacks.
Pizza margherita: 8 €
My favorite pizza: Zola - tomato, fior di latte, pears, walnuts, gorgonzola - 9€
Paul-Lincke-Ufer 39-40, 10999 Berlin Kreuzberg
Monday-Sunday: 12h-22h30
7. Masaniello – Berlin's oldest Neapolitan pizzeria in Neukölln (since 1979!)
The pizza that knows it is one of the best in Neukölln - and one of the oldest: opened in 1979! So the service is sometimes a bit rushed, but Neapolitans are like that sometimes, a bit temperamental, with their moods... but we always end up making up over a good pizza and a bottle of wine.
Pizza margherita: 7 €
My favorite pizza: pizza Positano (Parma ham, arugula and gorgonzola) - 9,50€
Hasenheide 20, 10967 Berlin Neukölln
Mardi-Dimanche : 12h-00h (closed on Wednesday)
8. Stranero – A typical Neapolitan restaurant in Wedding
In the heart of Wedding there is a large and warm canteen where the best of what is done in Naples is served. We stick together on the long shared tables, it's beautiful, it's good and it's warm.
Pizza margherita: 7,50 €
My favorite pizza: Quatro fromagi (fior di latte, Gorgonzola, Büffelricotta, Grana Padano cheese) - 10,50€
Liebenwalder Str. 11, 13347 Berlin Wedding
Tuesday-Sunday: 17h-23h
9. A Magica – A little nice italian pizzeria in Prenzlauer Berg
Typical Neapolitan pizzas are quickly eaten on high tables. It is often full to overflowing, the oven heats the room. We undress, we drink a glass of wine. The warmth, taste and excitement of Naples, in the shade of a church, next to the Schonhauser Allee S-bahn station. Welcome to Italy.
Pizza margherita: 7,50 €
My favorite pizza: Principe - Tomatoes with fresh mint pesto, mozzarella, grilled eggplants, cherry tomatoes and roman pecorino cheese - 10,50€
Greifenhagener Str. 54, 10437 Berlin Prenzlauer Berg
Monday-Sunday: 17h-22h30 (opens at 12h on Thursday and Friday)
10. Due Forni - a pizzeria to go to with friends (between Mitte and Prenzlauer Berg)
A true Berlin institution, Due Forni resembles a popular Italian canteen serving good and hearty Roman pizzas with very thin dough. It is the ideal place for lunch or dinner with friends and groups (it's easy to find a table for 10 people without a reservation).
Pizza margherita: 6,80 €
My favorite pizza: Incredibile - mushrooms, spicy salami, Bündner meat, Parmesan slivers, walnuts - 9,90€
Schönhauser Allee 12, 10119 Berlin
Monday-Sunday: 12h-00h

Other restaurants: Il Casolare à Kreuzberg - Grimmstraße 30, 10967 Berlin
11. Sud Pizzeria Napoletana in Bergmannkiez (Kreuzberg)
It's the whole of Naples' cuisine that invites itself to Berlin. I was invited by Neapolitans who had decided to get fat (and me with them): pizzas, croquettes stuffed with meat, then rice, then Neapolitan desserts. Robust as hell. A bit of sunshine and you'd think you were on the Amalfi coast.
Marheinekeplatz 3-4, 10961 Berlin Kreuzberg
Monday-Sunday: 12h-00h
12. La lupa e l'orso – a cosy italian restaurant in Prenzlauer Berg
Facing a small park in the western part of Prenzlauer Berg, a pizza that claims to be less Italian pure juice but more international and all-purpose, in the type of dough and its fermentation and thickness, the result is nice, as much as the atmosphere and the waiters. You can eat your pizza and drink some very good bottles of wine. A good time in a warm place.
Pizza margherita: 6,20 €
My favorite pizza: Capricciosa - tomato sauce, mozzarella, mushrooms, ham and artichokes - 9€
Schönfließer Str. 14, 10439 Berlin
Monday-Sunday: 17h-00h
13. Cali Bocca – The best pizza in Charlottenburg?
In Charlottenburg near Savignyplatz, in a more upmarket style, an honest and unadorned pizza. The other dishes are however to be preferred if you want my opinion (very good fresh pasta).
Pizza margherita: 7,50 €
My favorite pizza: Lodigiana (with fresh Italian sausage and mascarpone) - 10,50€
Schlüterstraße 30, 10629 Berlin
Monday-Sunday: 17h-00h
John-Henry Brichart
Author
I write novels, short stories, travel the world, take pictures, get drunk and scatter. I studied journalism and worked as a freelancer in Brussels before moving to Lisbon and now to Berlin.
These articles may be of interest to you