Real Estate Prices in Berlin 2022: Statistics & Evolution
Who could have imagined in 2012, when the square meter in Berlin was around €2,000 to €3,000, that residential property prices would reach record levels just 10 years later, at €5,000, €6,000 or even €8,000 per square meter? And yet, prices in Berlin continue to rise: they have increased by another 10.9% on average in 2021.
Sarra Saddek from the real estate agency Invest AB, which has been specializing in the Berlin real estate industry for more than 10 years, shares her expertise on the evolution of real estate prices in Berlin in 2022, the particularities of the market, as well as some insights on future trends and developments.
1. Key figures for the Berlin real estate market in 2022
The average price per square meter in Berlin in 2022 lies between 4900 and 5150 € for old buildings ("Altbau") and between 7400 and 7950 € for new buildings. These are the sales prices for rented and vacant residential properties combined.
The prices of apartments in new buildings in Berlin are higher than those in older buildings because they are often better designed, more modern and more energy efficient. In spite of this, the "Altbau" enjoy great popularity in Berlin and shape the real estate market.
Before giving you the trends of the prices per square meter in the different districts of Berlin, it is important to mention that the value of a property depends on several criteria:
The availability of the property: a rented apartment will sell for an average of 20-35% less than an unoccupied apartment.
The surface area of a property: the smaller the property, the higher the price per square meter.
Its condition: a property that needs work will obviously be less expensive (on average between 500€ and 1000€ per m² of renovation costs).
Its location: the neighborhood, of course, but also the fact that basic stores and public transportation are within walking distance, for example.
The valuation of a flat depends on several factors and not only on the number of square meters.
Invest AB offers a free and detailed real estate valuation in order to know the current value of a property.
How have rental prices in Berlin evolved?
The average rental price for new buildings is 19.20 euros per square meter, while the average rental price for existing buildings is 12 euros per square meter.
2. The real estate price evolution in Berlin over the last 10 years (until today)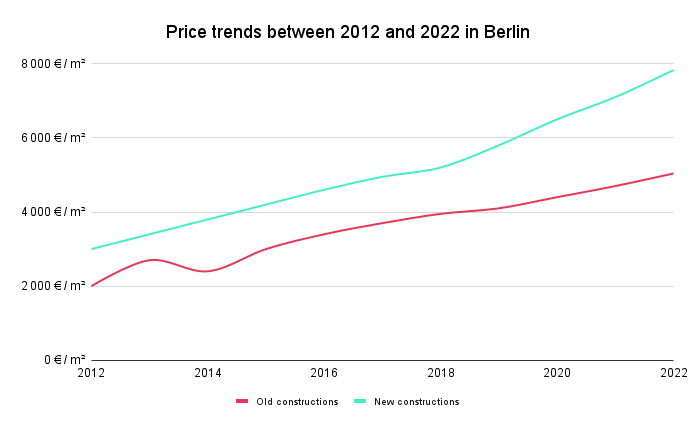 The real estate market in Berlin has increased dramatically over the past 10 years. From 2012 to 2022, the price per square meter in Berlin has risen from 2000€ to almost 5000€ for older homes and from 3000€ to 8000€ for new homes, an annual increase of about 10% per year.
It is interesting to observe on the graph above that the price gap between new and old has increased over time, from €1000 in 2012 to over €3000 today.
By way of comparison, the price per square meter in Paris is €10,034 on average and €9,000 in Munich.
3. What is the average price per square meter in Berlin by district?
Graph: Average prices per square meter for old buildings in Berlin in the first quarter of 2022.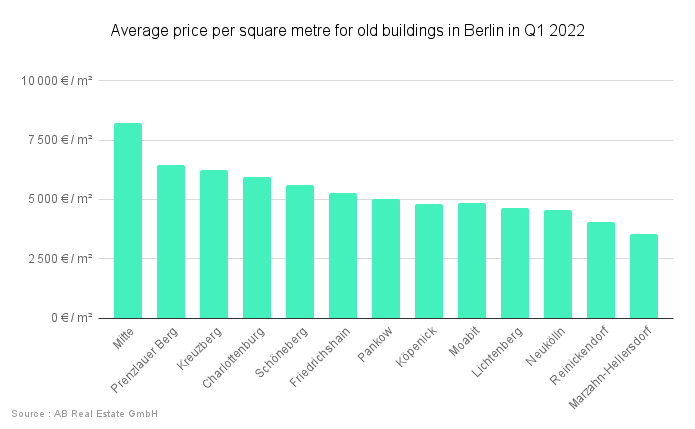 The districts of Mitte and Prenzlauer Berg maintain their placement at the top of the list with an average price per square meter of 8000€ for Mitte, and 6400€ for Prenzlauer Berg.
The price per sqm in Kreuzberg (€6240) now exceeds the price per sqm in Charlottenburg (€5900).
Not far behind are Schöneberg and Friedrichshain (between 5200 and 5600€/m2), neighborhoods that have been very successful in recent years.
The districts of Neukölln and Moabit have also seen a very strong increase, with prices more than doubling in the last ten years.
These figures are indicative of the demographic and economic development of the city of Berlin:
Berlin is a city in constant evolution with a population that has grown from 3.3 Million in 2012 to 3.7 Million by the end of 2021 (that's nearly 40,000 more people every year for the past 10 years).
Some areas of the city that were once considered less interesting have become the new "place to be", such as Kreuzberg, Neukölln or Wedding. So the question arises as to which neighborhoods will follow suit? Oberschöneweide? Köpenick?
There is a real demand for living in certain districts of Berlin. Kreuzberg and Neukölln are areas where people want to live. So there is a real demand for these districts.
How will the Berlin real estate market develop in the future? What trends and forecasts can be made?
4. Will residential property prices in Berlin go down or up?
It is difficult to make predictions in the German capital, as price trends are influenced by many political, economic, financial and demographic factors.
Let's take a look at the factors that are driving prices up:
Berlin is a city with strong economic growth of about 5% for the last 10 years and home to many startups (Tesla's Gigafactory (10,000 employees), Google, Delivery Hero, HelloFresh, Gorillas...)
Berlin is the political capital of Germany and offers a stable environment for national and international investors
Berlin's population continues to grow
Berlin remains an extremely attractive city, both nationally and internationally. Even though prices per square meter have increased significantly, they are still significantly lower compared to other major European cities.
Let's look at the risk factors that can affect supply, demand and prices directly:
The increase in interest rates by the ECB, which could make real estate loans more expensive and thus slow the rise in real estate prices
The political will to regulate rents (Mietendeckel, Mietspiegel) - despite the annulment of the rent cap (Mietendeckel) by the Constitutional Court in Karlsruhe on March 25, 2021, a nationwide rent cap is still being called for by the Die Linke party. However, it is unlikely to be implemented by the current coalition ("Ampel Koalition") consisting of the SPD, GRÜNE and FDP parties.
The double trend towards more home office and the longing for more closeness to nature, which concerns young working people, either alone or in a household. This trend is driving up prices on the outskirts of Berlin more than it is driving them down in the city center.
Overall, it seems realistic that real estate prices in the capital will continue to rise, albeit not as strongly as in the last 10 years.
How to know the value of your apartment?
In order to get a well-founded assessment of the current market value of a Berlin apartment or property, the real estate agency Invest AB offers a free and detailed property valuation.
Sarra Saddek
Real Estate Agent
Sarra Saddek from the real estate agency Invest AB which has been specializing in the Berlin real estate industry for over 10 years.
These articles may be of interest to you