Vabali Spa Berlin - Oasis of Relaxation with Sauna & Hammam
Berlin. Wednesday evening, in the depths of winter, a winter you think you can never escape. A week that drags on and on. An endless day at the office.
I leave the Hauptbahnof, people are in a hurry, without regard for me, and the weight of the world on my shoulders. I walk along car-saturated avenues that are unkind to the pedestrian that I am.
It is 7:30 pm when I enter the temple of Vabali for the first time.
At the reception desk, they speak to me with a friendly look, I am asked if I want a locker with or without video surveillance and I am handed the magnetic watch that I hang on my wrist. I pass through the entrance gate. And suddenly, suddenly, the world is far, far away. I walk through a covered outdoor walkway, already you can see lying Buddhas, already the bustle of the world is going away. After 50 meters I enter a second building where I am given a bathrobe and two towels. And slowly, a strange warmth invades me, that of voluptuousness, that of comfort and luxury. I walk slowly down the corridor leading to the locker, on all sides people are smiling, on all sides wood, bamboo, noble materials, the kind you would like to put in your bathroom, a bathroom where you would then have receptions all night long because it's too beautiful and too elegant not to be seen and share a bathroom like that.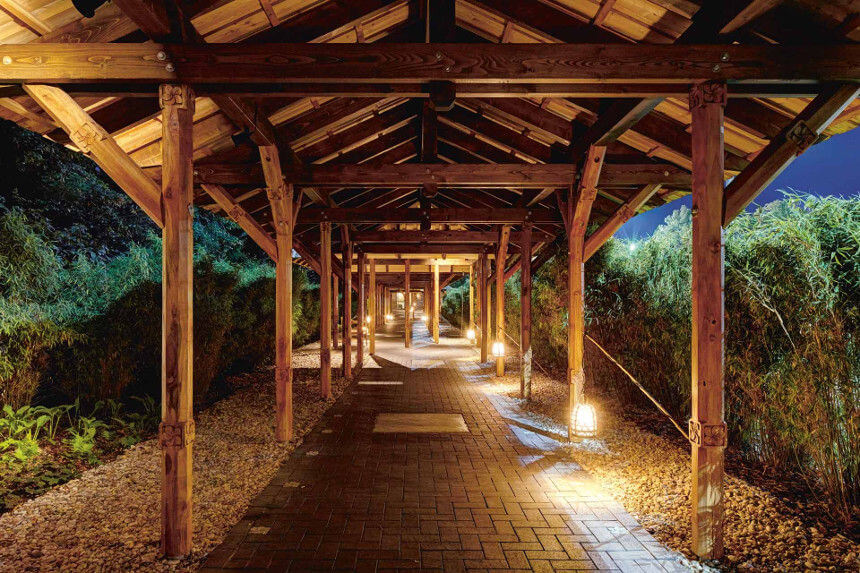 Vabali slowly pulls out his tentacles. I undress, put on a bathrobe and leave my glasses in my locker. From now on I won't be able to see more than two meters away, the rest will be just a beautiful and colourful blur. I am ready to get lost through the 20,000 square meters of the place, the 4 baths, the 2 swimming pools, the 7 saunas and the 4 hammams.
After leaving the changing rooms, I arrive directly in a kind of incredible patio on two floors, with a swimming pool and deckchairs in the middle. It looks like a riad in Marrakesh. All around are saunas and hammams of Roman or Ottoman inspiration, with different themes. A large wooden board indicates the different celebrations programmed in the largest saunas of the place. What does it mean? I'm not sure. I can't see anything. But people are already crowding into the sauna. I'll take this opportunity to go outside. There's a huge heated pool outside surrounded by plants and wooden cabins. I'm floating naked, there's no one there but me. A little further on, two hot baths hidden behind the reeds. I sleep there for fifteen minutes. It's already time for another sauna. Upstairs, with a view of what looks like a Balinese forest, the pool below. The music, everywhere the music, minimal, hypnotic, that crosses your body and bewitches you. Everywhere beige, brown, green, carpets, marble, precious wood. And sofas, seats, where you sit, with a perfect light, a light that belongs only to us, that isolates you from the world.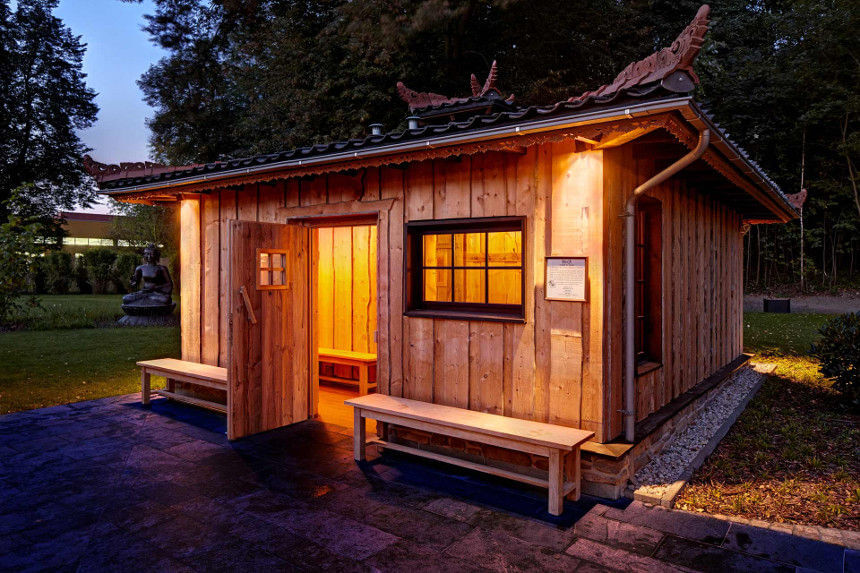 How many of us are currently enjoying the warm luxury of Vabali? Hundreds? Thousands? It doesn't matter. I am alone in the world. There's only me. Upstairs, more outdoor baths. Is it a man or a Buddhist statue at the corner between the plants, the wood and the oblique light? I see nothing and my imagination (or is it reality?) builds a phantasmagorical world, in the middle of the Balinese jungle, across the rice paddies. I cling to reality. Lithium and calcium bath, for the protection and defence of the skin. It's five degrees, I don't realize it anymore. I walk naked on the outside terrace. And I enter a sauna. It is dark. It's hot, much hotter than in the one before, with a view on the forest (or was it a rice field?). Everywhere men, women, what a difference, I see nothing. Everywhere bodies. I settle where I can, awkwardly. At the bottom of these rows of bodies, a woman appears, she seems to be dressed, she waves a sort of umbrella to circulate the hot air.
The session ends. The bodies applaud, leave the sauna, I stay a little longer. The dressed woman approaches me, she explains that when... I bring my face closer to hers, to understand her, I need to see her, our faces are less than a meter from each other, in the spicy heat of the sauna. "I used to say, when there's a celebration and you see that sign there at the entrance, you can't go in." She shows me the sign, I don't tell her there was no chance to see it, I apologize and smile at her. There are no more constraints or prohibitions, there are no more standards. Everything is free. I sprinkle myself with ice water (there is no bath or bucket of ice water). I lose all connection with the sense of the world. I let myself slide slowly into a vaporous state. I circulate in this gigantic labyrinth. I lie down on what looks like a four-poster bed, I dry out one last time in a compartmentalized hammam. Everything floats to the surface. I found my body, I found a place inside my body.
It's 11:30 pm when I cross the covered alleyway, dressed again, with Buddhas lying on either side.
I walk. Just remember. Wednesday night. At the end of winter, at the end of an endless week. I went back into the womb. It's the death of winter. It's rebirth. I am cleansed of the world. Now life can begin again.
Vabali.
So to finish this post, many have asked me to compare Liquidrom to Vabali, which seems to be the two most popular wellness areas in Berlin. I don't know how to compare them, there is nothing comparable. They are two very different atmospheres.
The exotic charm of Vabali versus the sleek, timeless design of Liquidrom. Small wooden huts versus contemporary concrete design. Green vs. dark blue. Exterior vs. interior. Nature vs. culture. A never-ending debate...
In short, Vabali has to be reimbursed quickly by the Krankenkasse, at least during the winter.
40€ for 4 hours with bathrobe and towels.
A tip: Go preferably during the week and if possible after 18h. You'll enjoy it more because there will be less people there.
Map, Address and Price
Opening hours: Monday to Sunday from 9am to midnight
Price: 22,50€ (2 hours), 30,50€ (4 hours) - 2/3€ more at weekends
Metro: U55 / S-Bahn Hauptbahnhof, Tram M8 Lesser-Ury-Weg
Adress: Seydlitzstraße 6, 10557 Berlin (Moabit)
John-Henry Brichart
Author
I write novels, short stories, travel the world, take pictures, get drunk and scatter. I studied journalism and worked as a freelancer in Brussels before moving to Lisbon and now to Berlin.
These articles may be of interest to you