25 Most Beautiful Street Art Murals in Berlin
Berlin is a reference in street art or urban art in Europe. For a long time, street artists from all over the world have been decorating and poetizing the German capital with their bright colors and artworks with political messages and slogans. Their art is present everywhere, at the corner of a street, on the facade of a building, in an inner courtyard or at the entrance of a metro station. The works often emerge in a spectacular and unexpected way. We stroll around, marvel at paintings, collages, stencils, graffiti, gigantic murals and frescoes.
Street Art was born in New York in the 1970s and invaded the city of Berlin in the 1980s, before the fall of the Berlin Wall. The French artist Thierry Noir was the first graffiti artist to paint on the Berlin Wall 5 years before reunification. Street Art tells, is outraged and gives back a little poetry and humanity to the great urban cities.
Here are the 25 most beautiful street art mural paintings in Berlin. Be also curious and attentive when you walk around the city, it is full of artworks, sometimes impressive, sometimes more intimate or even hidden, often surprising.
Street Art spots in the Friedrichshain district
Urban art works are not eternal... Street Art is indeed an ephemeral art and it is also what gives it its charm or beauty. This is also what makes exploration interesting because it is full of unexpected discoveries. The works evolve, disappear and then reappear in another form, in another place.
The RAW Tempel in Friedrichshain is one of the highlights of any Street Art tour in Berlin. It is a unique, fascinating place. They are former railway warehouses that have become temples of the night, with wall paintings and murals covering every corner.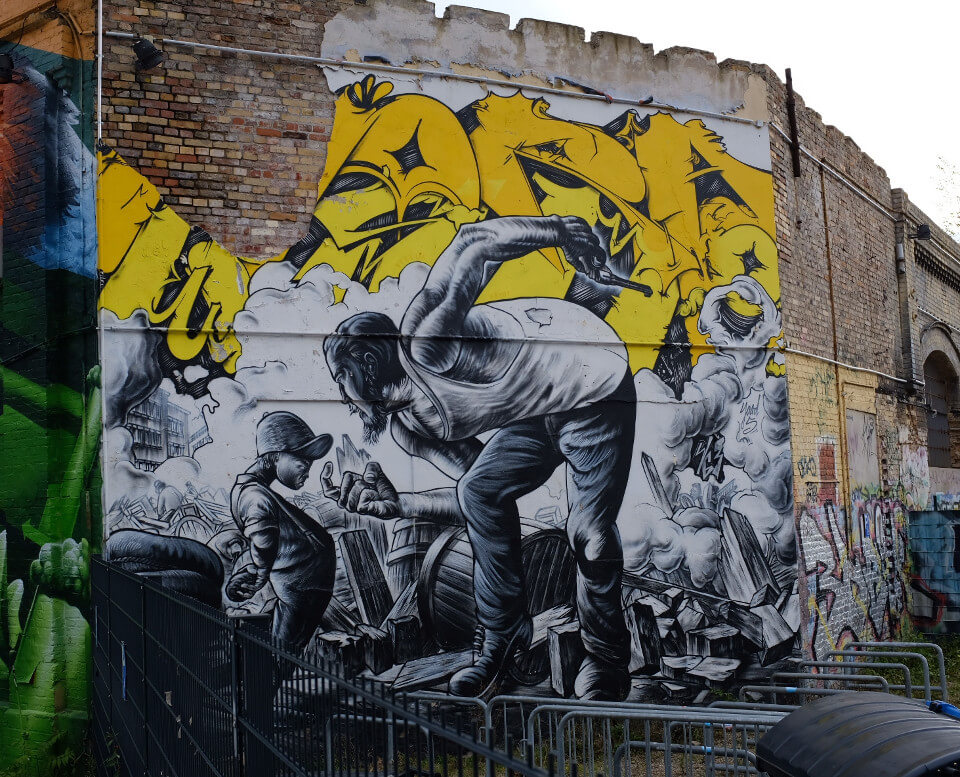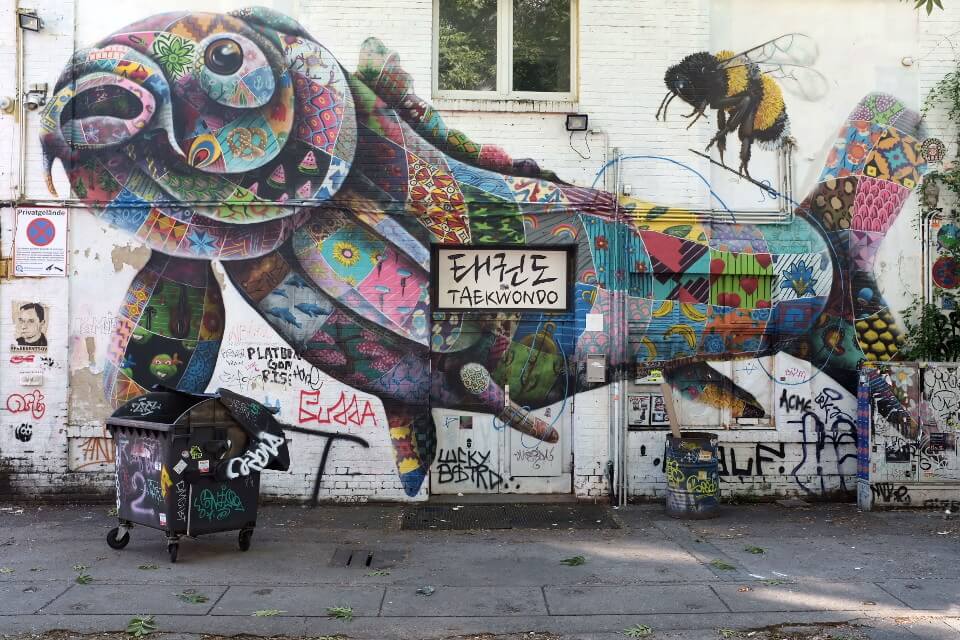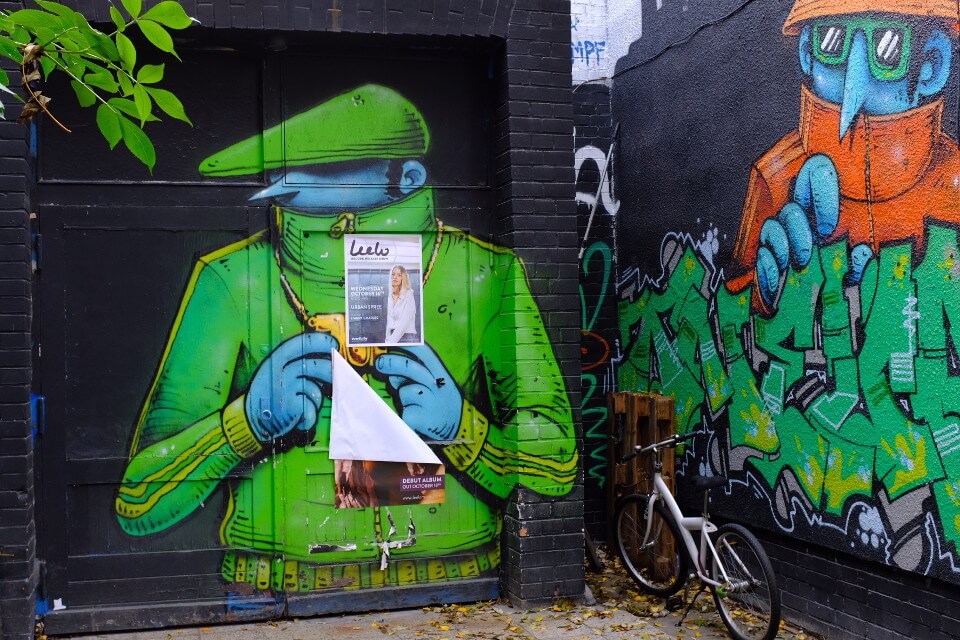 Another must-see stop on a street art tour in Berlin, even if the place has become very touristy: the East Side Gallery. This is the longest part of the Berlin Wall that is still visible: 1.3 km. At this location, the wall has been completely repainted and includes about a hundred street art works by artists from about twenty different countries (see the 10 most famous murals of the East Side Gallery).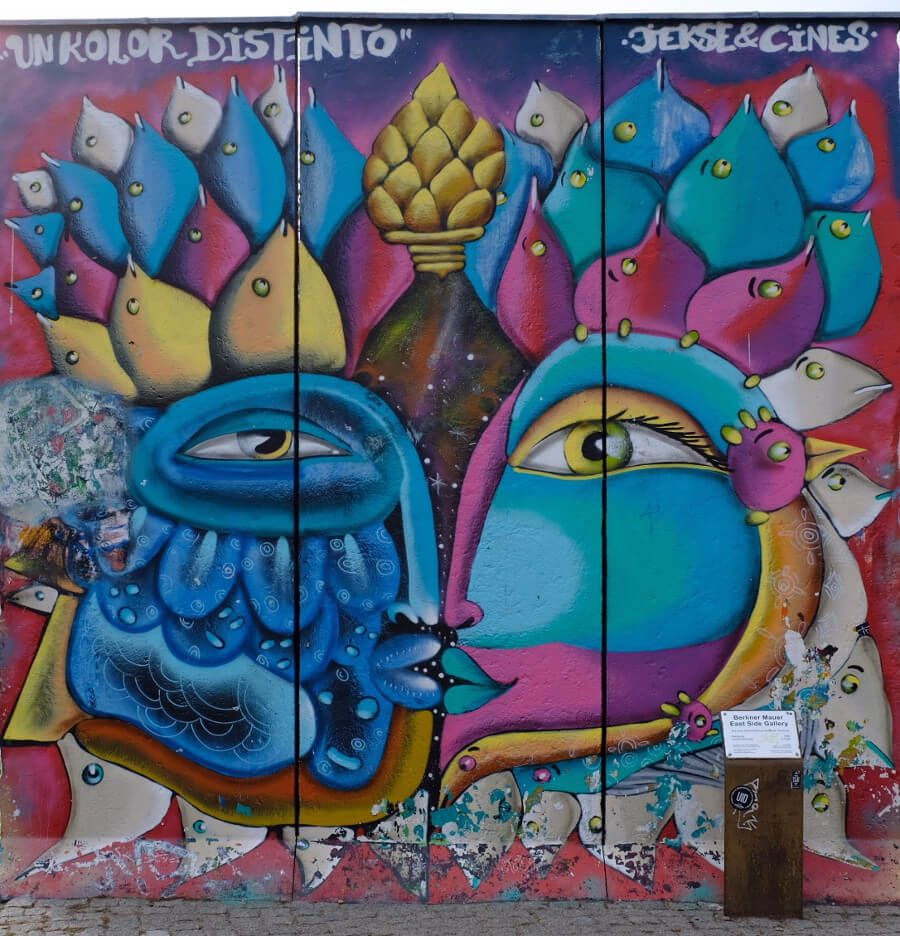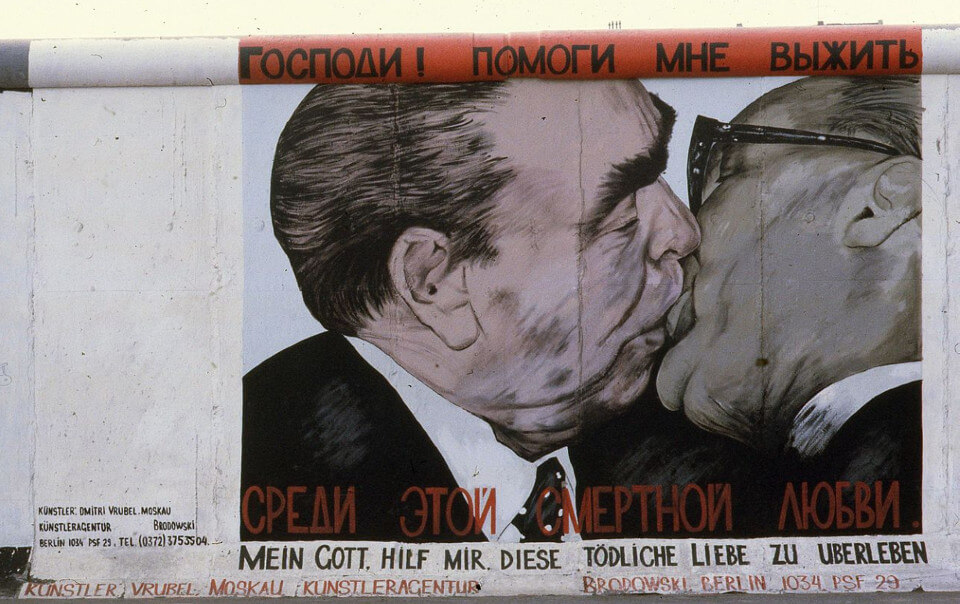 Street Art Murals in Berlin Mitte
The Mitte district has changed enormously over the past ten years. Once much more alternative with its clubs, smoky bars, squats and underground cultural sites like Tacheles. However, some places have survived, such as the Haus Schwarzenberg, located at the Rosenthaler Straße 39, which is among the most exceptional Street Art locations in Berlin (and also called the Street Art Alley). There are also, here and there, between Rosenthaler Str. and Schönhauser Allee, some street art works and paitings by well-known artists, such as El Bocho (collages of women with marked black features), Banksy or London Police.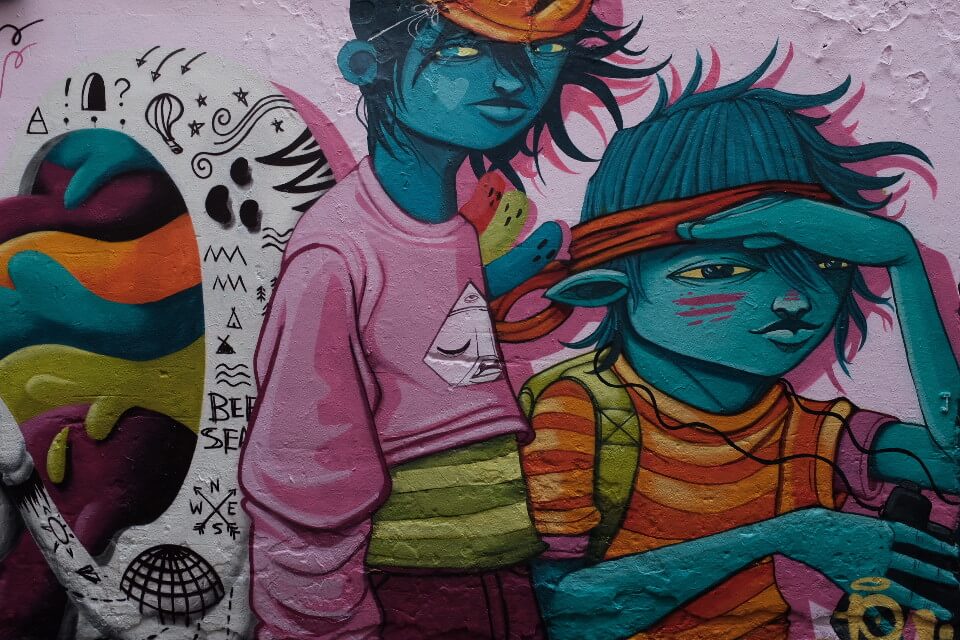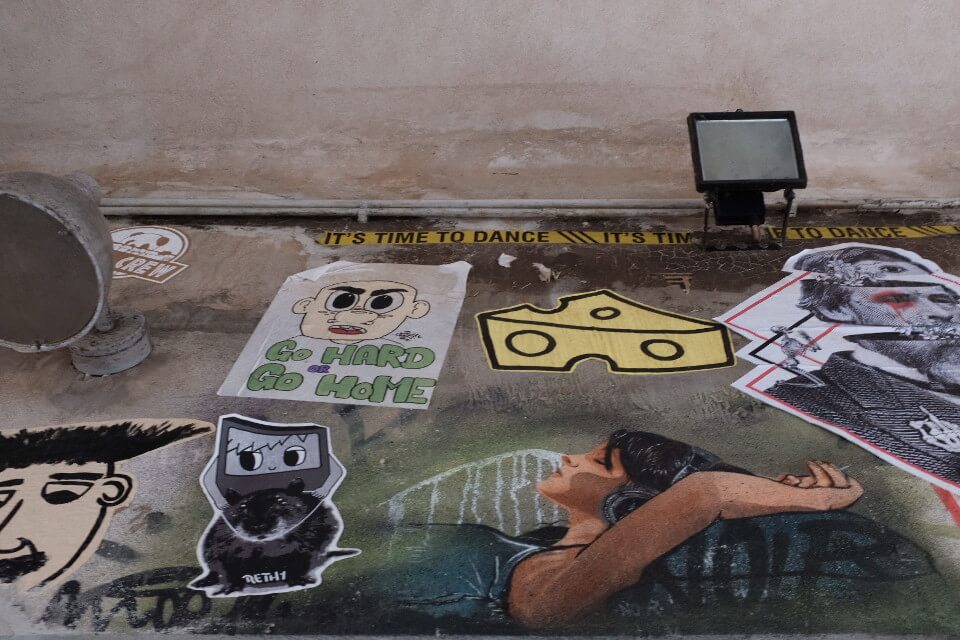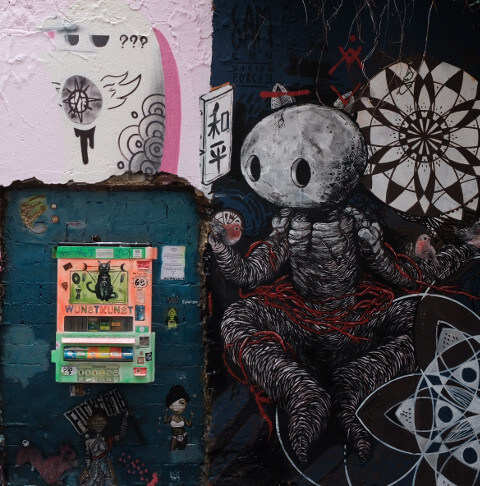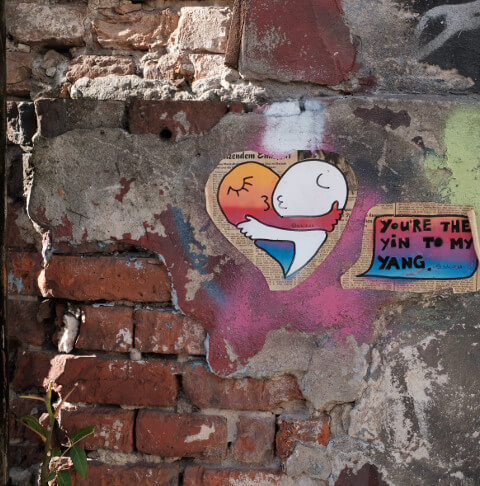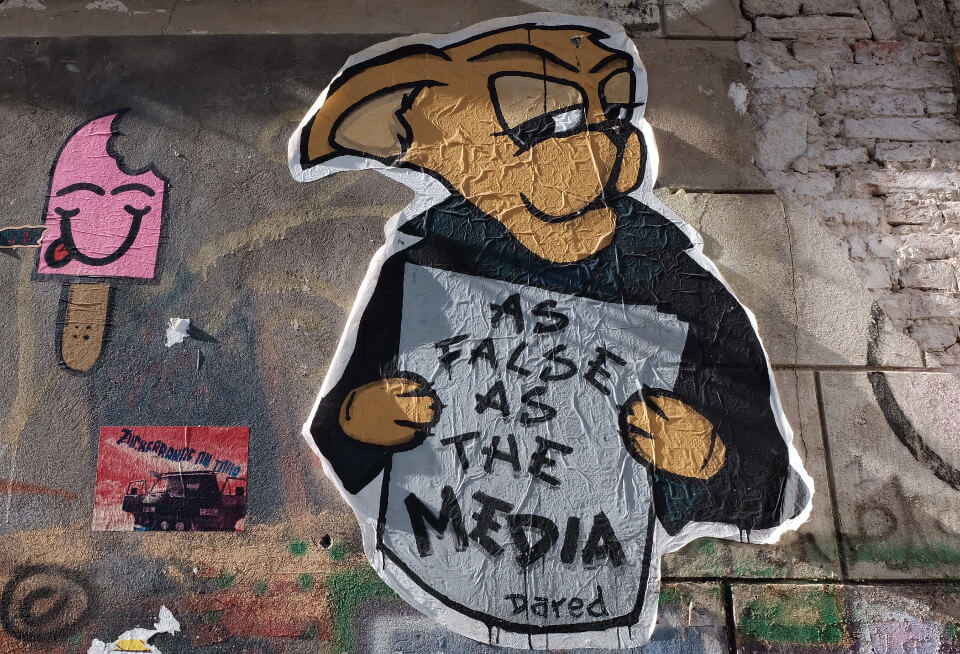 In the south of Mitte, on the border with Kreuzberg, there are great street art spots and impressive murals, such as that of the artist Case Macclaim, who was one of the pioneers of the photorealistic movement in Street Art.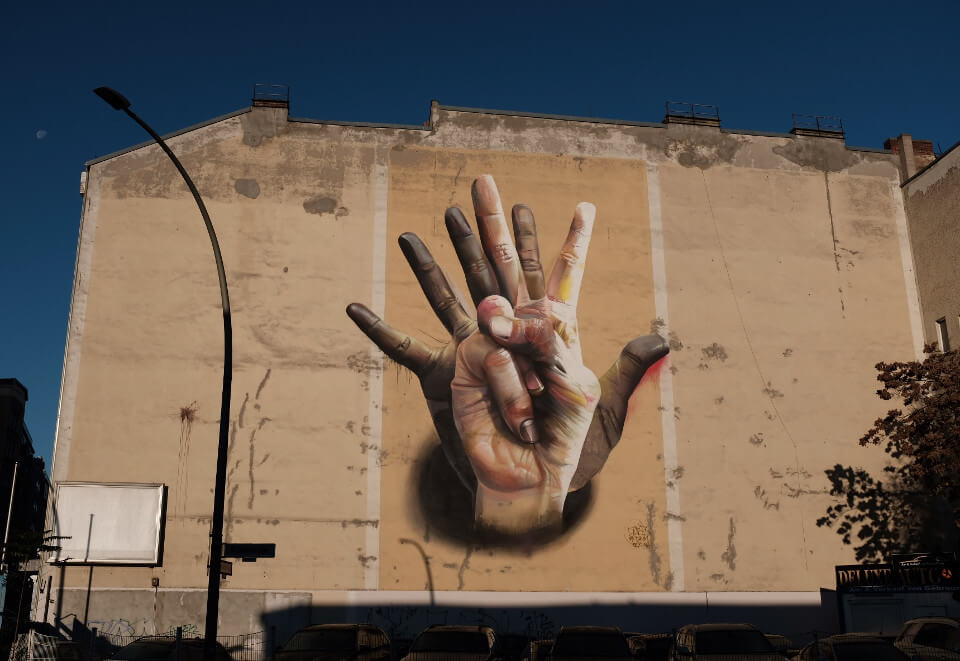 Street art and wall paintings in Kreuzberg
Kreuzberg is the district with the most Street Art works: tags, graffiti, murals, at a street corner, in an alley, on the giant facades of abandoned buildings.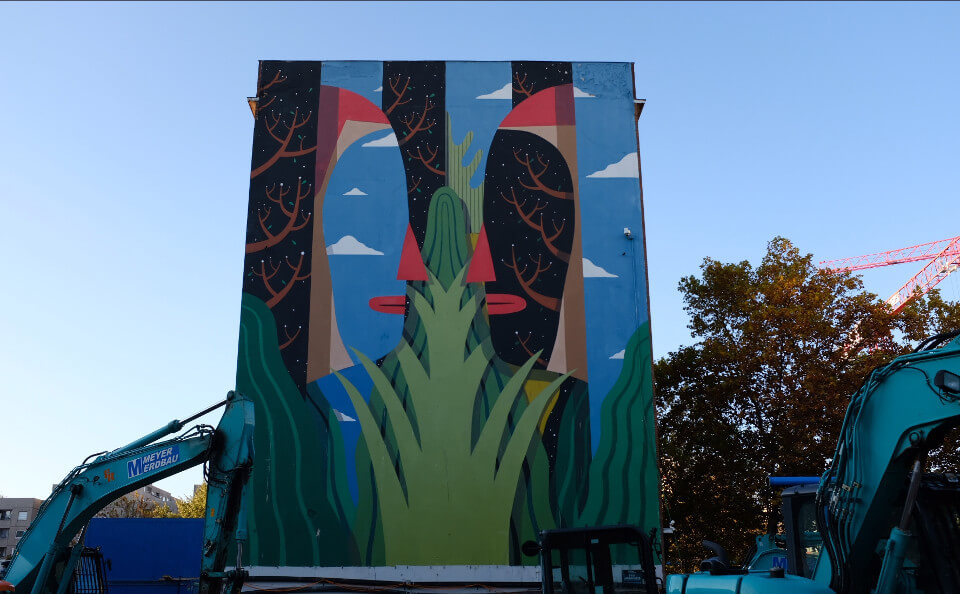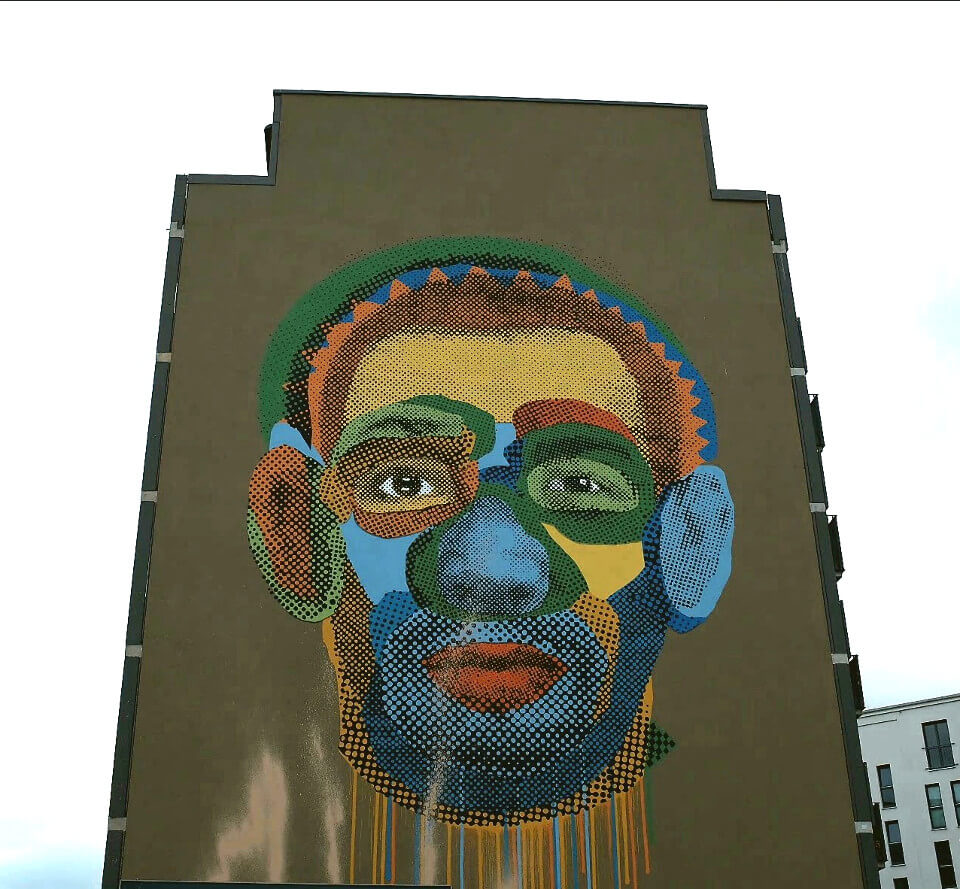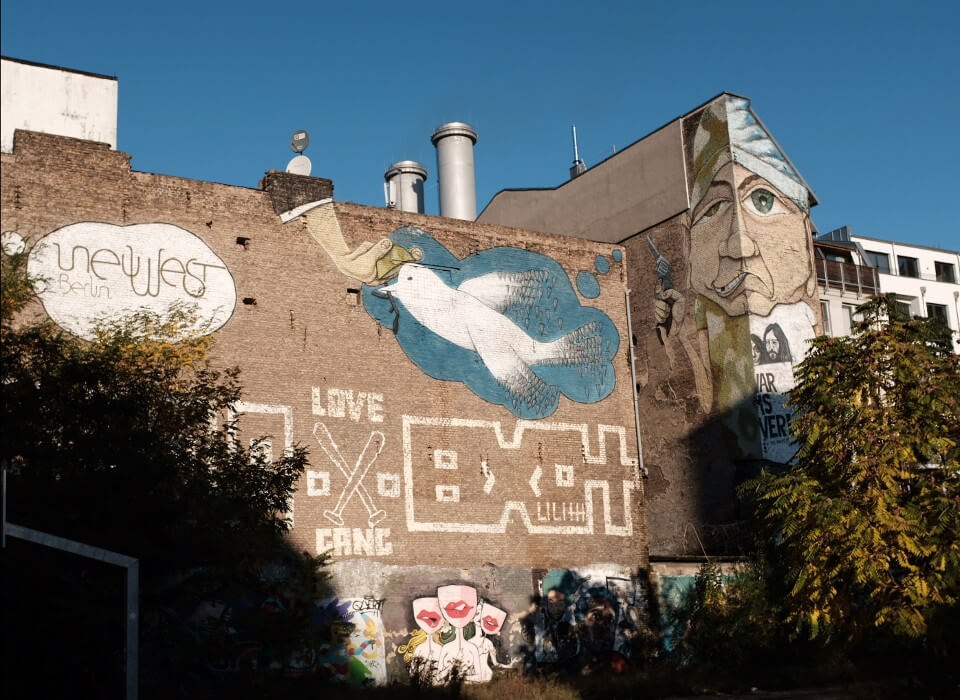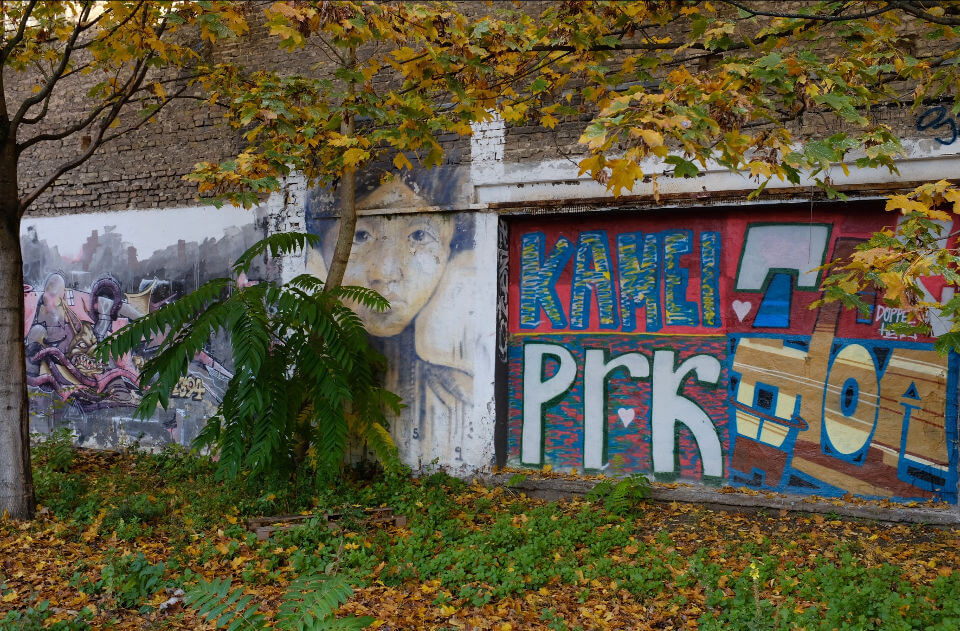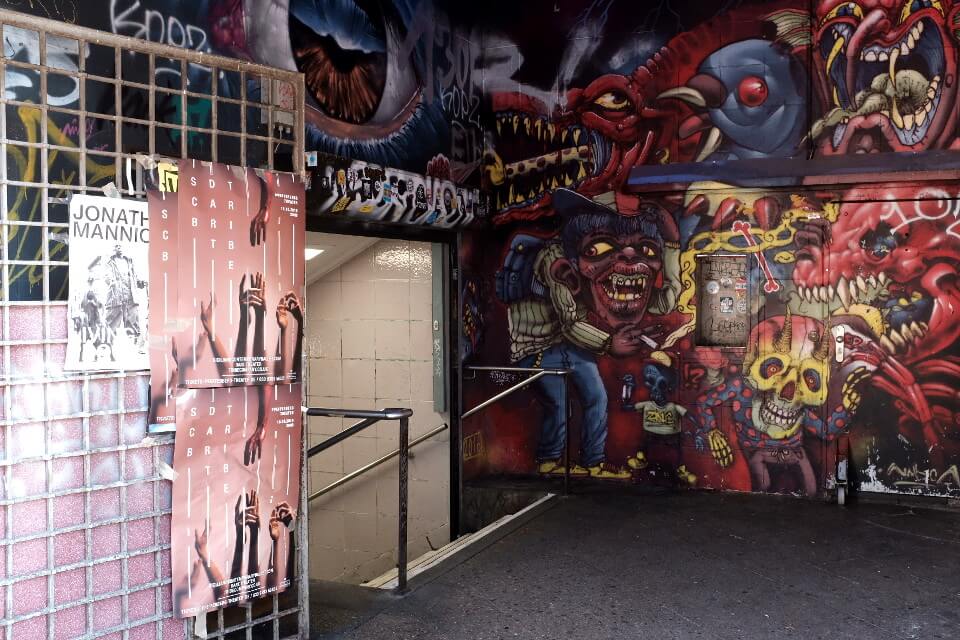 Wall paintings and graffiti in Prenzlauer Berg
A former underground and artistic district, Prenzlauer Berg has been transformed in recent years by major real estate renovation projects. Even if many street art works have disappeared, there are still some of them, and some well hidden! Urban artworks such as stencils, collages, murals, paintings, in building courtyards, on sidewalks, red lights... which remind us with nostalgia of the Berlin of yesteryear.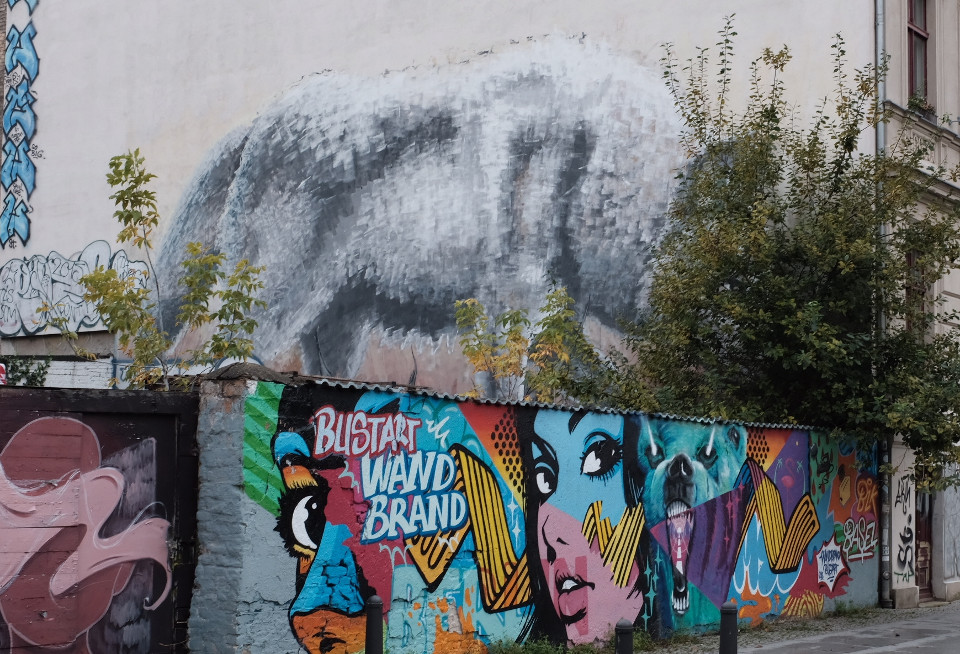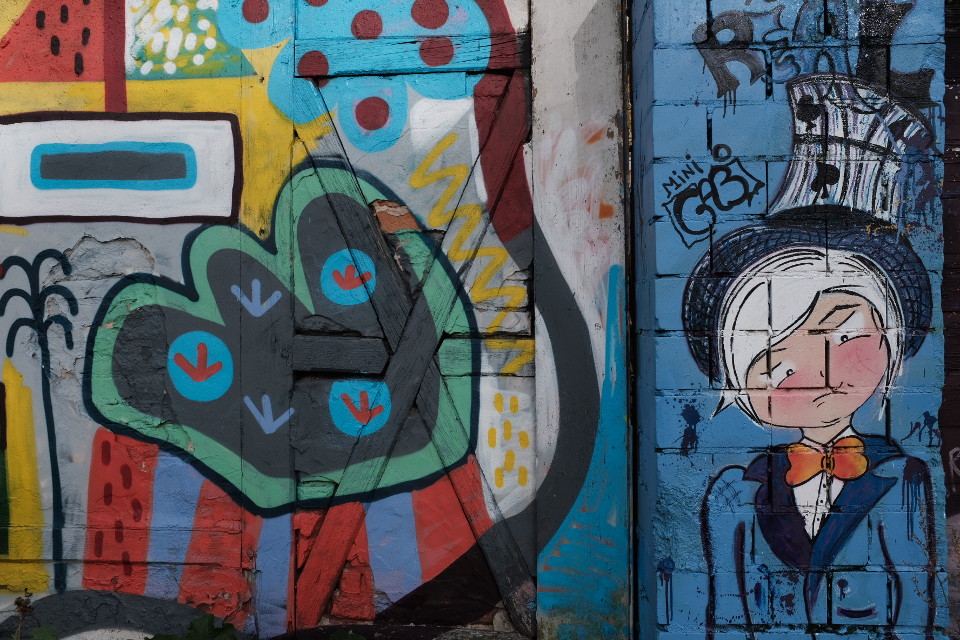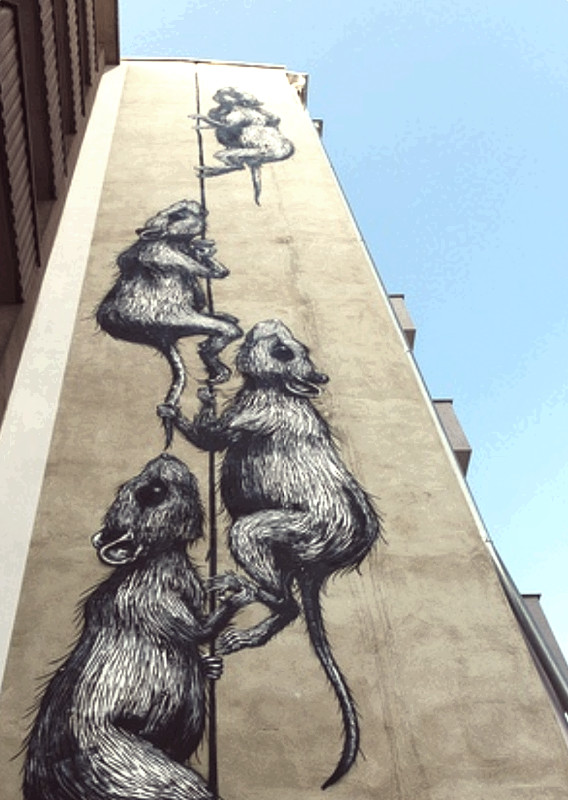 The greyish walls of the city of Berlin serve as giant canvases for many artists from all over the world. A street art tour in Berlin will surprise both art lovers and visitors curious to discover another side of the city's cultural life.
Raphaëlle Djuna Daouphars
Author
Art and Culture are my leitmotiv. As a cultural project manager, I have been passionate about photography and literature for several years. Berlin is for me a source of inspiration that never ceases to surprise me!
These articles may be of interest to you